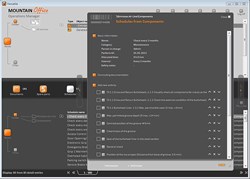 Beth brings a wealth of experience and a level of enthusiasm that will lift Steep's ability to reach out across the country.
Warren, VT (PRWEB) November 26, 2013
Recognizing the need to do more with less in the industry, Bob Ackland, founder of Steep Management is expanding the company to deliver an array of technology-driven products that will enable ski resort management to efficiently organize information distribution and provide consistency in maintenance scheduling. More importantly, the products selections will offer training, job-related information and technical guidance for ski patrol, lift maintenance, snowmaking, vehicle maintenance, guest service and lift operations, allowing the backbone of a ski resort to be more efficient and productive. Steep Management will provide software services for training, safety, tracking and maintaining productivity for mountain operations in the ski resort industry.
The main product within Steep Management's mix will be MountainOffice. This program enables coordination of the many facets of mountain operations and accountability for completion of tasks and activities scheduled throughout the many disciplines associated with mountain operations.
In addition, ISS 24/7 (http://iss247.com) will be added in December 2013. This venue management software increases guest communications and incident analysis. The platform optimizes guest experience while reducing risk.
Beth LaPointe comes to Steep Management with 15 years of experience in business development in the ski industry. She is the founder of Ski Mountain Supply, Inc, which she sold in 2005. "Having Beth on board will bring valuable knowledge to those on the hill who make the lifts spin, the snow fly and provide safety for the guests. Beth has spent a significant part of her career reaching out to this market, developing strategic customer relationships," says Ackland.
Felix Vienhauser and Erich Wanker founded SEC Ges.m.b.H in 1998. SEC produces Ropeways.net (http://www.ropeways.net), an online magazine specializing in ropeways transportation and Seilbahn.net, an online information platform for ropeway technicians in Europe. It also represents IDE technologies LTD of Kadima, Israel, which makes all-weather snowmaking systems; a vacuum-based technology used for unique snowmaking application worldwide.
Steep Management, founded in 2009 concentrates its efforts solely in the ski resort and ski community arena with a focus on strategic implementation, leadership development and organizational performance improvement.
The principal of Steep is Bob Ackland, a retired ski executive with over 40 years experience in the outdoor recreation industry; 20 of which in the ski resort management field.