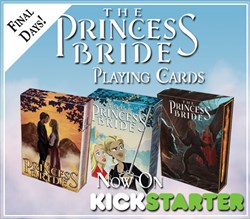 Inconceivable!
Austin, TX (PRWEB) November 25, 2013
The popularity of The Princes Bride can be seen everywhere these days. Already this month, we've seen news of the movie being adapted for the stage as well as Cary Elwes writing a memoir about the film.
But one place we didn't expect to see those lovable characters was on the faces of our playing cards. Albino Dragon launched a Kickstarter to secure funding to create a fully illustrated deck of playing cards printed by USPCC, the same company that manufactures Bicycle playing cards.
Albino Dragon has far exceeded their original goal of $10,000 and is now past $100,000 with almost two days still left to go. The project has expanded because of the popularity so that now there will be three different decks created, each illustrated by a different amazing artist. The project also offers backers the opportunity to add custom dice, poker chips, magnets, and dealer buttons that are all officially licensed The Princess Bride merchandise.
The company is no stranger to crowdfunding or playing cards. Since it was founded two years ago, Albino Dragon has raised over $900,000 in funds from Kickstarter and successfully completed eight projects. Since 2012, the company has moved from San Jose, CA to Austin, TX and grown from one employee to three with plans to expand again in 2014.
When asked about The Princes Bride's recent success and if he thought that the project would have done as well as it had, the company's CEO, Erik Dahlman, simply replied, "Inconceivable!"