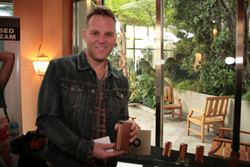 Beverly Hills, CA (PRWEB) November 24, 2013
Some of the celebrity attendees included: 2013 American Music Awards Winner Matthew West, Shelley Regner from Winning Show "Pitch Perfect", 2013 American Music Awards presenter Robert Herjavec, American Music Awards Red Carpet Host Carly Steel, Beau 'Casper' Smart, Beverly Hills Housewife Joyce Giraud-Ohoven, Scandal's Khandi Alexander, Shah's of Sunset Mike Shouhed and Reza Farahan, The Game's Jay Ellis, The Hunger Games: Catching Fire's E. Roger Mitchell, Elena Sanchez and Stef Dawson, to name a few!
GBK, the luxury lifestyle gift lounge and special events company, honored the 2013 American Music Award Nominees and Presenters with their annual GBK Gift Lounge at the L'Ermitage Beverly Hills. Known for adding that little extra to the gifting lounge environment, GBK featured a trend-setting selection of gifts in an entertaining atmosphere with music from DJ Shy.
For more pictures, see here: http://www.carellaugustus.com/GBK%20AMA%20LINK/.
The event was followed by a celebrity poker tournament which raised $12.000 for Model Citizen Fund. Gavin Keilly won the poker tournament and donated his first prize - a Trip to Bora Bora to be auctioned off for the cause.The Model Citizen Fund's mission is to distribute life-sustaining backpacks filled with 150 items that include food, health, and survival essentials to the homeless and disaster victims, giving them the tools and confidence to build/rebuild their lives. More information can be found on their website: http://www.ModelCitizenFund.org.
As always, an array of stylish products and fabulous gifts were featured on site including Carmex, who gifted their Carmex Moisture Plus® limited edition designs, a slim-stick lip balm line that presents a fashion-forward exterior while providing the legendary moisturizing formula of Carmex; GradeLASH MD, gifting their GrandeLASH 3 month supply to enhance longer, thicker lashes and Grande Mascara; Herbalosophy Beauty, a professional salon hair care system, gifting their hair care line that was created with the purpose of restoring your hair's harmony by utilizing tine-tested botanicals and herbal extracts; Bella Mira Essential Oils, gifting their highest quality therapeutic essential oils; and Mark Hill Salon Professional – Mark Hill is one of Britain's hottest celebrity hair stylists who recently launched a new hair care line in the U.S. sold exclusively at Walgreens.
Attending guests found the fashion and accessory products stylish and fun, and picked up gifts from Rolf Bleu™ by Caryn Sterling, the ultimate "tech meets chic" with Cross body iPad covers in color combos that are "on trend"; Jada Michaels Lingerie, offering a contemporary lingerie collection for women of all sizes; Contraband Hats, a celebrity branded hat company specializing in fedoras, snapbacks and beanies; WOLFHARDT, men's and women's leather accessories handmade from fine European materials, gifting wrap around bracelets and belts; Child Support Clothing, a clothing line that strives to make a difference in the lives of children living in desperate situations, gifting a t-shirt from their line; Cohesive, a men's contemporary sports wear line, gifting men's Henleys, cartigans sweatshirts and tshirts; and a selection of denim from Boom Boom Jeans and One5One.
Unique gifts and luxurious getaways are always a part of GBK lounges, and this event featured a range of elegant and trendy finds including: Alto Collective – Two brothers creating distinct luxury wood products that excel in both form and function, gifting their handcrafted Phone Cases, Minimal Wallet and Longboards; BLOW HOOKAH, a revolutionary Hookah with the same enjoyment of traditional hookah without the smoke, tar, mess, charcoal, fire, etc; Dazadi.com – the top destination for all things AWESOME for in and around the home, gifting a $250 certificate towards top brands in home game rooms, home fitness rooms, toys, basketball hoops and more; Palace Resorts and Caribbean Living, gifting a 4 night stay at Moon Palace resorts; Liquor Whipped, gifting a Bottle/Package of an alcohol product of choice including flavored vodka, vodka infused whipped cream, tropical liqueur and more; and The St. Regis Bora Bora Resort, gifting a destination package to include 3 nights in a Deluxe Overwater Villa, daily breakfast and 20% discount to Miri Miri Spa by Clarins. Jaliscos Mobile Taco Grill was also on site sampling their beef, chicken and pork tacos and gifting a Mobile Taco Grill Pary all-inclusive for 50 guests. Complimentary green room snacks provided by: Megaload, Pop Chips, Vita Coco, Pasta Chips, Sheila G's Brownie Brittle, Monster Energy Drink and Hint Water.
About GBK:
GBK, formerly GBK Productions, is a luxury lifestyle gifting and special events company, specializing in entertainment marketing integration. Formed in 2000 by Gavin Keilly, the company's Founder and CEO, GBK consists of five divisions: GBK Celebrity Gifting, GBK Special Events, GBK Weddings, GBK Charitable Consulting and GBK Marketing/Public Relations. Widely known in the entertainment industry for bringing that little extra something into the Gifting Lounge environment, GBK offers its clients a full range of marketing services. For more information on Gavin B. Keilly (CEO), Carla Domen (VP) or GBK, please go to gbkproductions.com.
GBK's Gift Lounge is not affiliated with the American Music Awards or Dick Clark Productions
Contact: Nicole Benninga
Nicole(at)GBKPR(dot)com
310-447-4111