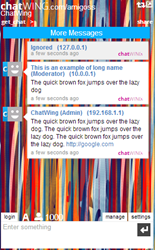 Cambridge, MA (PRWEB) November 24, 2013
In order to expand its online reach, Chatwing Team has started looking for active bloggers who have the spare time in moderating website chat rooms. The initiative was started by Suze Dollar—one of the new researchers of the company. Chatwing's moderator search is not limited at all, but the company prefers bloggers from the following niches:

Technology. Since technology is one of the most popular topics online, Chatwing chat software has decided to look for bloggers with tech expertise. Tech bloggers can discuss apps, programs, tutorials, and even reviews. Apart from moderating the chatrooms, tech bloggers can share their blogs and websites to people.
Blogging Techniques and Design. Blogging topics are also included in Chatwing's search. Based on professional studies, thousands of bloggers are appearing every day, thus creating a large flow of users. Experienced Wordpress bloggers can have the opportunity to share their techniques to beginners in the chatrooms. Aside from helping beginners, these blogger-moderators can have greater exposure rates for their websites.
Business and finance. It is undeniable that the business niche will always stay in the radar; this fact is based on global statistics and the amount of online business queries appearing every now and then. Chatwing Company used this information as one of the pegs in the moderator search. The company believes that business and finance bloggers can help more people through proper chatroom communication. Venture startup questions can also be answered with the help of the chatrooms.
Gaming. Chatwing has also decided to seek out game bloggers. The popularity of the niche is also undeniable, since companies are launching new games every now and then. While moderating, game bloggers can share tips and hints about their favorite games. This can lead to lively conversations every time.
Chatwing's search in Wordpress is quoted for a two-month period. After that, the team will move on to Xanga and Tumblr. The team is also creating more active chatrooms in order to reach users at a rapid pace.
About Chatwing.com
Chatwing.com is a company that has brought innovation to the modern chat widget. Operating for more than five years now, Chatwing and its team of developers have dozens of ideas ready to be introduced to the public. The Chatwing chat app is an easy-to-use online tool that can help web users interact with each other and can also generate continuous traffic.