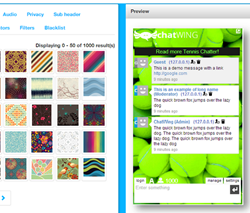 New York, NY (PRWEB) November 25, 2013
Chatwing.com has been busy creating widgets for bloggers from different communities in the cyberspace. For months, the company's developers have tweaked several designs and features, serving hundreds of clients on a regular basis. Recently, the company has launched the chat software 3.0—a widget that is focused on the importance of social media and other outlying trends. Here are some of the best features of the newest website live chat version:

Social media advantage. The Chatwing chat room is a widget that can be installed to any website. Through this chatroom, the website owner can communicate with his visitors and relay any message possible. In the new version, registered users can rely on different social media login options: Facebook, Twitter, Google, and Yahoo. With such options, users and visitors can share information about trends or news that definitely catches their interest.
Social sharing option. Web users can now use the social sharing feature of the chat software 3.0. This is a powerful feature that allows users to share conversations to their peers and colleagues. Based on the data gathered by Chatwing chat app team, the social sharing feature was commonly used by people who are doing news items about different topics. In a way, the feature can be used to spread information at a quick pace.
Tumblr login. The latest addition to the embeddable chatroom is the Tumblr login method. Now, Tumblr bloggers can be more acquainted with the software. Through Tumblr login, Tumblr users can also gain more exposure for their websites at a limited time. During the first week of Tumblr login release, Chatwing.com has received positive feedbacks.
The chat software 3.0 is a developing platform. Chatwing.com and its team of developers are always conducting studies to ensure that they can come up of the best features for the widget. Updates are always available in the company's Facebook and Twitter accounts.
About Chatwing.com
Chatwing.com is a company that has brought innovation to the modern chat widget. Operating for more than five years now, Chatwing and its team of developers have dozens of ideas ready to be introduced to the public. The Chatwing chat app is an easy-to-use online tool that can help web users interact with each other and can also generate continuous traffic. Chatwing will always be a "freemium" application for everyone.