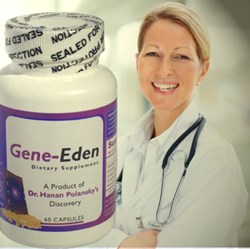 Gene-Eden-VIR can help the immune system stay strong against latent viruses. Parents that want to protect their kids as they head to college against latent viruses should talk to them about Gene-Eden-VIR. – Mike Evans, polyDNA
Rochester, NY (PRWEB) November 25, 2013
An outbreak of meningitis has struck Princeton University (1). Parents should know that both bacteria and viruses can cause meningitis. While there is a vaccine for bacterial meningitis that students are required to get, most parents don't realize that the vaccine is only for bacterial meningitis and does not prevent the viral form of the disease. polyDNA points out the differences between bacterial and viral meningitis, and describes the risks and treatments for each.
Currently, Princeton University is "reminding students to 'keep healthy and carry on' by not sharing drinks or kissing, and red cups around campus have been adorned with stickers that say 'Mine. Not Yours.' Cute, but not enough. The most recent case was diagnosed just last week (1)."
Meningitis is nicknamed "the kissing disease" because the pathogens (disease causing organisms) that cause it are spread by kissing. "Meningitis is a disease caused by the inflammation of the protective membranes covering the brain and spinal cord known as the meninges. The inflammation is usually caused by an infection of the fluid surrounding the brain and spinal cord. Meningitis may develop in response to a number of causes, usually bacteria or viruses… (2)." This is according to the CDC on its website on a page last updated on November 18, 2013.
The primary difference between bacterial and viral meningitis is the pathogen that causes the inflammation. The CDC says that "Bacterial meningitis is usually severe. While most people with meningitis recover, it can cause serious complications, such as brain damage, hearing loss, or learning disabilities. There are several pathogens (types of germs) that can cause bacterial meningitis (2)."
Parents and students should be aware that "There is no specific treatment for viral meningitis. Antibiotics do not help viral infections, so they are not useful in the treatment of viral meningitis…a hospital stay may be necessary in more severe cases or for people with weak immune systems (2)."
In addition, parents should understand that while viral meningitis is usually less severe than bacterial meningitis, there is still a risk of severe complications such a paralysis.
Most viral meningitis cases in the United States, especially during the summer months, "are caused by enteroviruses…other viral infections that can lead to meningitis include Mumps, Herpesvirus, including Epstein-Barr virus, herpes simplex viruses, varicella-zoster virus (which also causes chicken pox and shingles), measles, and influenza Viruses spread through mosquitoes and other insects… (2)."
polyDNA points out that severe complications can arise from meningitis caused by one of the viruses listed above. For example, one study found that some patients developed paralysis even after the meningitis resolved! "Paresis (partial paralysis) of the bladder and anus, paresthesia (nerve damage) of the buttocks and lower limbs, and symmetrical weakness in the lower limbs lasting 1 to 9 days have been described with HSV-2. One year after HSV-2 infection, some patients developed paresis of the bladder and rectum as well as lower-extremity weakness even after clinical signs of meningitis had resolved." This is according to a study published on July 26, 2013 in the Baylor University Medical Center Proceedings (3).
Most of the viral causes of meningitis are viruses that establish life-long, latent infections in those they infect. Thus, polyDNA recommends Gene-Eden-VIR, a natural remedy designed to help the immune system target latent viruses.
"Gene-Eden-VIR can help the immune system stay strong against latent viruses. Parents that want to protect their kids as they head to college against latent viruses should talk to them about Gene-Eden-VIR." – Mike Evans, polyDNA
A recent study entitled "Gene-Eden-VIR is Antiviral: Results of a Post Marketing Clinical Study," which was published in September 2013 in the medical journal Pharmacology & Pharmacy in a special edition on antiviral medications, showed that Gene-Eden-VIR is safe and effective. Up to 70% of those studied reported a decrease in viral symptoms. (4)
Each ingredient of Gene-Eden-VIR was chosen through a scientific approach. Scientists scanned thousands of scientific and medical papers published in various medical and scientific journals around the world to identify the safest, most effective natural ingredients that target the latent form of HSV. (4)
To learn more about Gene-Eden-VIR, and latent viruses, visit http://gene-eden-kill-virus.com/ . All orders of Gene-Eden-VIR are completely confidential, and no information is shared or sold to any third party. Privacy is assured.
References:
(1) This Week in Sex: Meningitis at Princeton, the Cheneys' Public Dispute, and Herpes on a Library Book. Published on November 22, 2013.
http://rhrealitycheck.org/article/2013/11/22/this-week-in-sex-meningitis-at-princeton-the-cheneys-public-dispute-and-herpes-on-a-library-book/
(2) CDC – Meningitis, Page Updated on November 18, 2013
http://www.cdc.gov/meningitis/index.html
(3) Herpes simplex virus meningitis complicated by ascending paralysis. Published on July 26, 2013
http://www.ncbi.nlm.nih.gov/pmc/articles/PMC3684292/
(4) Gene-Eden-VIR Is Antiviral: Results of a Post Marketing Clinical Study. Published on September 2013.
http://gene-eden-kill-virus.com/PP_Gene-Eden-VIR-is-Antiviral.pdf
polyDNA is a biotechnology company that develops dietary supplements using the unique scientific method developed by Dr. Hanan Polansky, which is based on Computer Intuition.
In addition to his unique scientific method, Dr. Polansky published the highly acclaimed scientific discovery, called Microcompetition with Foreign DNA. The discovery explains how foreign DNA fragments, and specifically, DNA of latent viruses, cause most major diseases.
polyDNA developed Gene-Eden-VIR, an antiviral natural remedy that helps the immune system kill latent viruses.