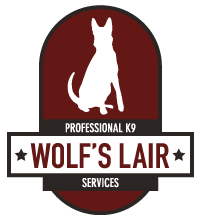 At Wolf's Lair K9, we focus on building a closer bond between you and your canine.
Northbrook,IL (PRWEB) November 27, 2013
For some people, training a dog can be more than a challenge, but representatives of Wolf's Lair K9 say the training tips it provided while recently being featured on Good Day Chicago Fox News, make it a lot easier.
"We're excited to have had the opportunity to share tips about dog training," said Carlos D. Aguirre, owner and trainer for Wolf's Lair K9, a professional dog training business owned and operated by a Marine Corps veteran.
During the appearance on the Fox News network, representatives of Wolf's Lair K9 provided a variety of training tips for viewers, such as: don't console too much, mental stimulation is key, avoid free feeding, don't train with treat jars, and finally, have fun with your dog.
The news clip can be viewed at: http://wolfslairk9.com/inthenews.html
"At Wolf's Lair K9, we focus on building a closer bond between you and your canine," Aguirre pointed out, before adding, "Through balanced training ranging from basic to advanced obedience, we provide you with tools to achieve a mentally and physically stable canine."
Aguirre went on to note that not every dog learns the same way.
"That is why we focus our training around how your individual dog learns best," Aguirre stressed. "Communicating in the way your dog learns is very important. Communicating incorrectly can create undesirable behavior such as chewing, barking, jumping, separation anxiety, and more."
Wolf's Lair K9, according to Aguirre, has a variety of programs it offers, such as The Lodge and Learn program, which is designed to train dogs and equip them with the fundamentals for a balanced life.
"There is no magic pill to train a dog," Aguirre said. "With this program, we will teach your dog the fundamentals of manners and how to behave properly in a diverse set of environments. Your dog will be accommodated in our facility and taught in a home environment. After the Lodge and Learn training program, we will train owners and canines how to live a stable life together."
The company also offers in-home training, private lessons, day training, personal protection, and specialized training, such as search and rescue, French ring, scent detection, puppy bite work development and more.
For more information, please visit: http://wolfslairk9.com/services.html.
About Wolf's Lair K9
While serving in The United States Marine Corps from 2003–2009, including deployments to Japan, Norway and Iraq, Carlos D. Aguirre was first exposed to and trained in handling military working dogs. The methods used to train military working canines provided the spark that started it all for Carlos and led him to the well known Tom Rose School for dog trainers.
Carlos attended the rigorous Professional and Master's programs, and in 2010 was awarded his Master Trainer and Certified Decoy titles. After graduating and becoming gainfully employed in the canine training industry, Carlos continued to hone his skills on many types of dog training methods such as those used for therapy dogs, search and rescue dogs, military/police K9 divisions, canines in AKC competitions, hunting dogs, Schutzhund, Mondioring, French Ring, the Protection Sports Association, and service dogs for individuals with disabilities.
Contact Details:
Carlos D. Aguirre
3400 Dundee Road, Suite 180
Northbrook, IL 60062
Phone: 847-691-7088
Fax: 847-897-1764
Source: Wolf's Lair K9 LLC