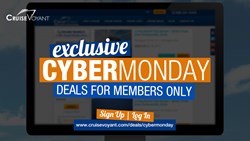 "Our cruise experts are always on the lookout for the best cruise deals on the market," Jack Field, founder of Cruise Voyant said.
Fort Lauderdale, FL (PRWEB) November 25, 2013
CruiseVoyant.com is pleased to announce they will be revealing an exclusive, members-only list of cruise deals for Cyber Monday 2013. Cyber Monday cruise deals will be made available to anyone that is a Cruise Voyant member or signs up for a free Cruise Voyant account either before or on Cyber Monday. The Cyber Monday cruise deals will only be available from 12:01 AM to 11:59 PM ET on Monday, December 2, 2013.
Cruise Voyant's Cyber Monday cruise deals will include highly discounted cruises from a wide range of ports and feature every major cruise line including Royal Caribbean, Norwegian, Carnival, Celebrity, Holland America, Disney and Princess Cruise Line. With 24/7 customer service, Cruise Voyant representatives will be available to help customers take advantage of the cruise savings being offered during the one-day Cyber Monday cruise sale. Discounted cruise fares will be available with up to 75% off normal rates and many of the cruise deals featured will also offer an additional onboard credit of up to $250 per stateroom. With the ability to combine multiple discounts and special offers, Cruise Voyant is encouraging those interested in booking a cruise to take advantage of this one day only opportunity to book some of the best cruise deals of the year.
"Our cruise experts are always on the lookout for the best cruise deals on the market," Jack Field, founder of Cruise Voyant said. "We've curated a list of our best cruise deals for this sale and are excited to be able to offer them to our members on Cyber Monday."
Along with receiving access to the exclusive list of Cyber Monday cruise deals, Cruise Voyant offers a wide variety of other member perks. A free membership with Cruise Voyant gives members access to exclusive cruise deals, special incentives and other great cruise information. Those interested in a membership can join at Cruise Voyant with either an email address or by simply linking their Cruise Voyant account to a social media account.
Cyber Monday cruise deals will be available at http://www.cruisevoyant.com/deals/cybermonday.
About Cruise Voyant
Cruise Voyant is a Fort Lauderdale-based cruise agency that is revolutionizing the cruise booking process. Cruise Voyant solves many of today's most difficult booking issues by allowing visitors to view a historic look at how pricing has changed on a particular ship and sail date. Cruise Voyant also offers interactive cruise itinerary maps, and it provides tens of thousands of photos of ships and destinations worldwide. Cruise Voyant helps consumers easily find their dream vacation by empowering them with online advice and insights that will help them easily book and manage their vacation plans.