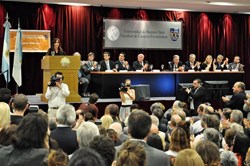 Bangalore, India (PRWEB) November 25, 2013
The seminar was part of the 7th International Conference on Economy and Management "ECON 2013," conducted at the distinguished University of Buenos Aires, one of the most prestigious institutes in Latin America, The speaker, Patricia Etchehun, spoke about how cloud based PMS and unified distribution systems increases the ROI for hotels, and addressed a crowd of more than 180 people comprising of hoteliers and students.
"It is a proud moment for Hotelogix to see our channel partners strongly believing in the product and reaching out to the local community by educating them on the various facets and advantages of using a cloud based PMS," Aditya Sanghi, CEO and founding member of Hotelogix stated. "Hotelogix has seen a growing traction in the Argentinian Market, and our Spanish version of Hotelogix has been widely accepted and appreciated by Hoteliers in the country. It is humbling for us to see that our channel partners strongly believe in our product and are adding value to the market by bringing in industry experts who believe in the same."
Patricia spoke about the various facets of the hospitality business covering topics ranging from distribution channels, revenue management and customer intelligence, and illustrated how cloud based solutions were better than Legacy ones. According to Patricia "Hotelogix is a powerful and versatile solution to manage hotels. Combined with Siteminder, increases a hotel's visibility on OTA´s, maximize occupation and make possible to apply multiple rate strategies; which very shortly turn into profits and positive revenue."
To create a deeper impact, procedures of the online presence for hotels, and understanding for stretching demand to the limits to gain maximize revenue, were first analyzed from the theoretical framework and then shown through practical implementation by use of innovative applications as Hotelogix, Siteminder and CRM. Thus participants were able to visualize procedures when strategically implemented, could significantly improve the profitability of their ventures.
Hotelogix has been strongly embraced by the Latin American hospitality sector and their Spanish version has been widely appreciated. With the backing of strong channel partners such as AxentComunicacion Visual Marketing Digital, Hotelogix is fully geared to reach greater heights in the continent.
ABOUT HOTELOGIX:
Hotelogix is now being used in more than 60 countries like USA, U.K, Brazil, Argentina, Morocco, Thailand, France, Jamaica, etc. It has Channel Partners in the Philippines, Thailand, Malaysia, USA, Peru, UK etc. and is backed by Accel Partners. Hotelogix offers a 24x7 live support to its customers and is hosted on highly reliable and secured cloud services. To know more, visit: http://www.hotelogix.com.
Follow us on Twitter: https://twitter.com/#!/Hotelogix
Like us on Facebook: https://www.facebook.com/Hotelogix
Connect with us on LinkedIn: Hotelogix-Hotel Management software
Read our blog on: http://www.hotelogix.com/blog/