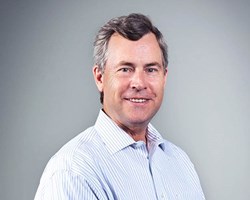 SkyMall is more than just a catalog in the airline seat pocket
New York, NY (PRWEB) November 26, 2013
ExpertFlyer.com®, the premier online air travel information tool, which now offers its award-winning Seat Alerts® feature as a free app to all travelers, conducted a One-on-One interview with Kevin Weiss, the new CEO of Xhibit Corporation, after its merger with SkyMall last May. Anyone who has ever flown domestically is familiar with SkyMall, the in-flight shopping catalog that has reached legendary status since its first publication in 1990. Following its merger with Xhibit Corp., a cloud based technology development company, SkyMall has expanded the shopping experience for consumers beyond its printed catalog tucked away in your airline seat pocket.
During the interview, Kevin Weiss shares some of the nostalgia associated with SkyMall and how technology, online access, and price guarantees are expanding the shopping experience for travelers while increasing sales with competitive pricing on "really cool stuff." Mr. Weiss also discusses how in-flight Wi-Fi has benefited sales at SkyMall and how free access to SkyMall.com is available on many flights.
"While we still see great value in our printed catalog, which lives in the airline seat pockets, customers have more access to electronic devices," explains Kevin Weiss. "This means they have more time to shop with us using Wi-Fi. In the 'old days,' travelers had to read the catalog in-flight and remember to take it with them if they wanted to make a purchase, and then remember to actually order the items they wanted. Today, with Wi-Fi, they can order right from their seat, and an added bonus, passengers on several airlines can go to SkyMall.com without being charged a Wi-Fi access fee."
"SkyMall has become famous for sharing some of the coolest, unique, fun, and even quirky products with travelers over the years," says Chris Lopinto, president and co-founder of ExpertFlyer.com. "Flipping through the catalog was 'entertaining' for passengers and quickly became synonymous with the overall airline travel experience. It is great to see that SkyMall has adapted to the online shopping experience and continues to be a part of the travel experience for travelers."
Travelers, and gadget lovers, can subscribe to SkyMall's email news and promotions at SkyMall.com. Through December 31, SkyMall will offer all ExpertFlyer Facebook fans who enter ExpertFlyer's monthly Sweepstakes Giveaway, a special 20% discount. Fans will receive a special code when they enter the ExpertFlyer Facebook Giveaway tab or visit this link: http://a.pgtb.me/DzK6vt. The code can be used when ordering by phone at 1-800-SkyMall or entering it in the check out process on SkyMall.com.
To read the entire interview with Kevin Weiss, please visit ExpertFlyer's blog.
About Xhibit Corporation
Xhibit Corp. owns and operates SkyMall, a multi-channel, direct marketer offering high-quality, innovative merchandise from top direct marketers and manufacturers through the iconic SkyMall catalog and website, SkyMall.com. The SkyMall catalog is seen by approximately 88% of all domestic air passengers reaching more than 650 million travelers annually. Founded in 1999, SkyMall Ventures (SMV) is an innovative provider of merchandise, gift cards and experiential rewards reaching millions of loyalty program members in some of the most well-regarded loyalty programs in the country. SMV provides cost-effective, global solutions supported by a high-quality customer experience.
Through its other subsidiaries, Xhibit provides cloud based marketing and technology development services and solutions, focused on digital advertising, mobile and social media development, and CRM (customer relationship management) solutions. Through these companies, Xhibit offers a total solution for digital advertising and marketing that is integrated throughout its divisions and shares technology and resources across all of its services. Xhibit utilizes its branded products and services to provide digital marketing and advertising solutions for top tier advertisers and agency clients.
About ExpertFlyer.com
Each month, ExpertFlyer's One-on-One blog goes face-to-face with the travel industry's leading decision makers to discuss and address topics relevant to many of today's business and frequent travelers.
ExpertFlyer.com was conceived and created by an eclectic team consisting of a veteran elite tier frequent flyer, an airline captain and corporate travel manager, and information technology professionals to deliver a 24/7 real time powerful air travel information service. The company provides its subscribers and corporate travel managers alike with a complete, concise and efficient way to access the ever-changing details of worldwide air travel information. For more information, please visit expertflyer.com.
# # #