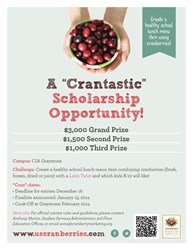 'Exploring new ways in which our healthy U.S. cranberries can pair with the cultural tastes of our nation's increasingly diverse student population is very exciting.' - Scott J. Soares, Executive Director, CMC
Wareham, Massachusetts (PRWEB) December 03, 2013
Representatives of the U.S. Cranberry Marketing Committee (CMC) announced today the launch of a first-ever student scholarship recipe competition being held at world-renowned, The Culinary Institute of America (CIA) in St. Helena, California. The Greystone Campus's 300 gastronomic enthusiasts have been given a three-fold challenge: 1) develop healthy lunch menu recipes that K-12 students will like, 2) integrate cranberries as a key ingredient, and 3) add a Latin-twist to the original recipe. And while not a pre-requisite, recipes should seek to adhere to the new National School Lunch Program (NSLP) guidelines.
The challenge has been issued as a result of the current efforts of the CMC to increase year round consumption of cranberry products including in school foodservice. A recent survey revealed that not only are cranberry products increasingly used in school foodservice but that also more would be used if greater access and more recipe options were available.
"Our partnership with The Culinary Institute of America gives us a unique opportunity to explore new ways in which our healthy U.S. cranberry can pair well with the cultural tastes of our nation's increasingly diverse student population," said Scott J. Soares, Executive Director of CMC.
Added Soares, "With more than 55 million K-12 students and 16% of our student population now of Latin ancestry, it's becoming increasingly important to provide diverse and delicious menu options for school foodservice that also recognize ethnic food preferences in a changing demographic make-up."
As a result of an industry-wide invitation to participate, US cranberry handlers from across the country have sent a variety of cranberry product samples to the CIA at Greystone's test kitchen, including fresh, dried, frozen, sauce, and juice. Participants have until December 16th, 2013 to submit their culinary ideas.
"We are fortunate to be able to partner with the CMC on this competition," says Russell Scott, dean of education at the CIA. "The scholarship opportunity is wonderful for our students and cranberries have been attached to Thanksgiving alone for far too long. They have a wonderful bold flavor that can be used in so many other culinary roles. I look forward to seeing what our students create with them."
In addition to K-12 friendly and Latin-themed original entries, the CMC will also be looking for recipes that are adaptable to USDA healthier dietary guidelines. Qualifying entries will be added to a growing library of NSLP-conforming school lunch recipes that were unveiled as part of a Cranberry School Nutrition Toolkit at the July 2013 National School Nutrition Association summer conference in Kansas City.
CIA student finalists will be announced January 15th, 2014 with a final cook-off on February 24th, 2014 at the CIA at Greystone. The grand prize winner will receive a scholarship award of $3,000; second place winner $1,500; and third place winner $1,000.
Product samples with which participating students will have an opportunity to experiment were provided by Cape Blanco Cranberries Inc., Oregon; Clement Papas & Co., Inc., New Jersey; Decas Cranberry Products, Massachusetts; Ocean Spray Cranberries, Inc., and Mariani Packing Co., Wisconsin.
About The Cranberry Marketing Committee (CMC)
The CMC was established as a Federal Marketing Order in 1962 to ensure a stable, orderly supply of good quality product. Authority for its actions are provided under Chapter IX, Title 7, Code of Federal Regulations, referred to as the Federal Cranberry Marketing Order, which is part of the Agricultural Marketing Agreement Act of 1937, as amended. This Act specifies cranberries as a commodity that may be covered, regulations that may be issued, guidelines for administering the programs, and privileges and limitations granted by Congress. For more information about the CMC, visit http://www.uscranberries.com. Follow at http://www.twitter.com/uscranberries and http://www.facebook/cranbecravers.
About the CIA
Founded in 1946, The Culinary Institute of America is an independent, not-for-profit college offering associate and bachelor's degrees with majors in culinary arts, baking and pastry arts, and culinary science, as well as certificate programs in culinary arts and wine and beverage studies. As the world's premier culinary college, the CIA provides thought leadership in the areas of health & wellness, sustainability, and world cuisines & cultures through research and conferences. The CIA has a network of 45,000 alumni that includes industry leaders such as Grant Achatz, Anthony Bourdain, Roy Choi, Cat Cora, Dan Coudreaut, Steve Ells, Johnny Iuzzini, Charlie Palmer, and Roy Yamaguchi. The CIA also offers courses for professionals and enthusiasts, as well as consulting services in support of innovation for the foodservice and hospitality industry. The college has campuses in Hyde Park, NY; St. Helena, CA; San Antonio, TX; and Singapore. For more information, visit http://www.ciachef.edu.