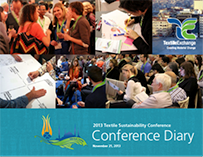 You captured the mood of what is important and what is developing in the sustainable business development space...
Lubbock, TX (PRWEB) November 25, 2013
The Textile Exchange 2013 Textile Sustainability Conference held in Istanbul on November 11, 12, and 13 hosted 300 delegates representing the entire textile industry from farmers, manufacturers, input suppliers, brands, and retailers from 40 countries.
Conference attendees, including TE members, represent a driving force for creating meaningful change in the textile industry.
This year's conference focused on five key themes: Strategy, Sourcing and Supply Chain, Indexes and Standards, Design and Materials, and Chemistry and Processing. For the first time in TE conference history, the sessions were designed to facilitate collaboration, giving attendees the opportunity to co-create solutions. The mix of topics, collaborative working sessions, and people brought both old and new topics to life.
The three days of learning and collaboration began with the 2nd annual Organic Cotton Round Table meeting where 100 delegates gathered to have an in depth discussion and to create action items around the organic cotton business model, seed security, and consumer engagement. Regarding the conference as a whole, Phil Chamberlain from C&A stated, "You captured the mood of what is important and what is developing in the sustainable business development space, and once again clearly demonstrated that TE remains the heartbeat of the organic cotton movement."
Following the Round Table meeting were two full power-packed days of conference that brought forth many priorities from the pool of challenges and opportunities. Over the coming year, Textile Exchange will explore a few of these priorities, including Natural versus Synthetic Biology, Closing the Loop, Strategies for Cotton Sustainability, and The Evolution of Integrity.
These topics and more outcomes of the conference can be found in our first ever, Conference Diary. The Diary is a visually stunning overview of the full three days of the conference. In keeping with our mission to "inspire and equip," TE is pleased to make this publication free to the public. Download the 2013 TE Conference Diary here.
About Textile Exchange
Textile Exchange (TE) is a global non-profit organization dedicated to accelerating sustainable practices in the textile industry. Incorporated in 2002, TE envisions a textile industry that protects and restores the environment while enhancing lives. Headquartered in the USA, with staff in eight countries, the organization works to leverage the scale and influence of the textile industry to create significant and sustained change. TE also provides tools and training on the impacts and issues that most affect the future of the industry in order to drive positive change. To learn more about Textile Exchange, visit http://www.textileexchange.org.