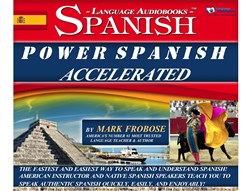 Champaign, Illinois (PRWEB) November 26, 2013
As the holiday season approaches, more and more people will be spending long hours waiting in lines and spending a fortune on imagined "bargains".
Many dread the approach of the holidays simply because they spend so much of it buried in crowds, credit cards, and debt.
But Mark Frobose, bestselling author of "Power Spanish Accelerated" says that with a few simple adjustments, both holiday stress and debt can be mostly avoided or greatly reduced. Here are five tips Mark recommends:
1. Shop online whenever possible. "Shoppers would be amazed at how fast, easy, and cheap it is to do all of their holiday shopping online while sitting in a robe sipping coffee," he says. "Often, shipping is free and bargains abound," emphasizes Frobose.
2. Avoid purchasing expensive "physical" CD products. Everything from bestselling audiobooks to popular music are instantly available in digital formats. For example, "Power Spanish Accelerated" sells for around $35.00 as a CD set on Amazon.com but costs only $17.00 on Audible.com as an instantly downloadable digital gift that even looks like a real present.
3. Email a digital download as a gift and save big money. Emailing a nice digital gift download to that special loved one through companies like Audible.com has the added advantage of saving shoppers a fortune. "One of my customers tells me she saved $750.00 simply by emailing Power French Accelerated to a relative as a gift for only $17.00 instead of nearly paying $800.00 for a computerized language program," states the Language Audiobooks founder. "The relative was delighted and my customer saved a fortune," Frobose concludes.
4. Read the online reviews of products before making a purchase. Online reviews are one of the best ways to avoid holiday buying scams. All of this information is available to people on their smart phone or computer. They should use it.
5. Get and print holiday coupons for discounts online before shopping. Better yet, use coupon codes to purchase a digital product online.
Mark Frobose has created more bestselling language programs than anyone in America today. His Power Spanish, Power French, and Power Italian programs sell for under $20.00 on Audible.com and are instantly downloadable to an iPhone, Android, or computer. Programs are also available in Mandarin Chinese, Russian, and German.
Mark Frobose is the founder of Language Audiobooks Inc., the nation's most popular source for fast and easy digital language programs. Mark's language products were rated an "Excellent Value" by Men's Health Magazine when compared to Pimsleur and Rosetta Stone.