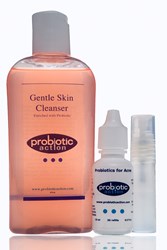 Probiotics for Acne
(PRWEB) November 26, 2013
Earlier this month, Bevnet.com featured information on the announcement launching Kombucha Brewers International. For the probiotic industry, the growth of kombucha in the past several years has brought the use of liquid probiotics to the common market, and created a new level of education for consumers on the topic of probiotics. For those who are health conscious, or who have considered probiotics for acne, the media shows evidence to support the use of liquid probiotics, whether ingested, or as a topical probiotic on the skin as a natural alternative to immune support, gastrointestinal health, and acne treatment.
As probiotic action spokesman Fernando Perez states, "The use of kombucha as a healthy alternative to immune support, and as an overall supplement to balance the levels of bad bacteria in the system, should increase the effectiveness of any probiotic supplements. As for those suffering from acne, the increased use of liquid probiotics may aid in the body's ability to break down food in the digestive system which may otherwise stay in the body, and fuel acne causing bacteria. As a result of the body's increased amount of probiotics due to kombucha intake, when a topical probiotic like Probiotic Action's adult acne treatment is introduced, the liquid probiotics for acne, may be better supported to combat the acne causing P.Acnes bacteria."
For further insight on benefits of probiotics, in kombucha and as an acne treatment, why they are known as "the best acne treatment", as well as information on using probiotics for acne, and other skin care issues, visit ProbioticAction.com. To stay in touch with Probiotic Action as they offer their new products, like them on Facebook for reviews and product updates.
Probiotic Action is a natural acne treatments that uses Probiotics for acne containing the "good bacteria" that is naturally found on healthy human skin. By using probiotics, Probiotic Action is an effective treatment that restores the normal bacteria content on skin, while battling what causes acne. Probiotic Action will successfully clear skin when used as an adult acne treatment while protecting skin against bad bacteria, free radicals, and pollutants*.
*These statements have not been evaluated by the Food and Drug Administration. Probiotic Action is not intended to diagnose, treat, cure or prevent any disease.