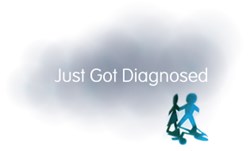 Effective communication is about working together, not establishing who's in control. On a winning team, everybody is a team player.
New York, NY (PRWEB) November 26, 2013
Dr. Gary McClain has published a new article, "Dangers of Self-Diagnosis. Let Your Doctors Do Their Job" on his website, JustGotDiagnosed.com. A specialist in the emotional impact of chronic and catastrophic illnesses, Gary McClain, PhD, developed JustGotDiagnosed.com to address a serious need he saw going unfulfilled; namely, a way for newly-diagnosed patients to receive help in coping with their emotional reactions to their diagnosis. Dr. McClain also blogs on the online patient community site, AllianceHealth.com, where this article was originally published.
In discussing his article, McClain emphasized that while the ability to self-diagnose via the Internet may serve to drive patients to their doctors, they may also arrive armed with an erroneous diagnosis. "Patients and physicians have the same goal: Excellent healthcare for the patient. Patients want to be empowered through self awareness and research. Physicians, in turn, respect their patient's desire to be actively involved in their healthcare. But the doctor still needs to be the doctor."
McClain pointed out how a patient's preconceived notion of their diagnosis may interfere with communication and waste time and resources. "Patients and their physicians share the consequences. Time spent with the doctor talking the patient out of their self-diagnosis. Time that could have been better spent working together to understand the symptoms and discuss the options. The potential for misdiagnosis, as well as unnecessary testing and treatment. And tension between two people who have a solid working relationship."
In his article, McClain provides suggestions for patients to work more productively with their physicians, including how to approach this conversation.
"Doctors are human," McClain concluded. "When patients make demands, based on their own diagnosis, they place themselves and their doctors in a potential power struggle. Communication grinds to a halt. And they may make such a strong case for their assumed diagnosis that they place their physicians at risk for missing other symptoms. Effective communication is about working together, not establishing who's in control. On a winning team, everybody is a team player."
About Dr. Gary McClain and JustGotDiagnosed.com
Dr. Gary McClain is a therapist, educator, patient advocate and author who specializes in working with individuals who have been diagnosed with chronic and catastrophic medical conditions, focusing on issues that include coping emotionally, gathering information, making lifestyle and treatment decisions, managing relationships, and communicating with healthcare professionals. As "Dr. Gary," he blogs on patient social networking boards on AllianceHealth.com. Founded and developed by Dr. McClain, JustGotDiagnosed.com offers information, guidance and inspiration for newly diagnosed patients, their caregivers, and healthcare professionals. His program for newly-diagnosed patients, Prepared for the Road Ahead ™, is focused on the emotional, lifestyle management, communications, and vision for the future. Visit JustGotDiagnosed.com.