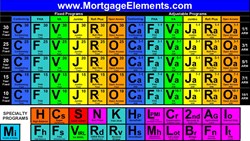 Mortgage Elements list over 150 Wholesale Lenders in its database.
Chicago, IL (PRWEB) November 29, 2013
The Dallas News recently reported that Nationstar Mortgage will exit the Wholesale Mortgage business and sell the assets to Stonegate Mortgage. Additionally, HousingWire recently reported that Suntrust Mortgage has also decided to exit the Wholesale Mortgage channel effective Dec 31, 2013. Both lenders said they will stay active in mortgage lending, but intend to concentrate their resources on originating mortgages through their retail, correspondent, and consumer direct channels.
This is one of those Good News - Bad News things. The exit of two large players from the Wholesale Lending channel can be perceived as bad news and unsettling for many Mortgage Brokers. The good news is that there are 150 to 200 other Wholesale Lenders willing to take their place and service Mortgage Brokers. The issue for many Mortgage Brokers is finding the right Wholesale Lender with the right product mix in their area to replace the relationships. More good news is that there is an excellent resource where Mortgage Brokers can easily find new Wholesale Lenders and research their products - http://www.MortgageElements.com.
Mortgage Elements is an excellent resource for Mortgage Brokers to find and research Wholesale Lenders and start a new business relationship. The website has over 150 Wholesale Lenders listed in its database. These include Wholesale Lenders that originate on a national, regional, and local basis.
Mortgage Brokers can access the website and database for free without having to sign up or commit to any service agreements. Wholesale Lenders can also be included in the database for free with no requirements or service agreements.
The website and interface is very simple using graphic elements as opposed to the typical text. It takes only a few seconds to become oriented to the unique graphics. Any Wholesale Lender can be found with just 4 mouse clicks. Once in the website, all the broker needs to do is click on a program from the home page, click a state from the drop down box, then click go. The next screen will list Wholesale Lenders that offer that mortgage program in that state. One more addition click and the broker will be taken to the program guidelines or home page of that Wholesale Lender.
The Mortgage Elements website is also unique in that it is optimized for use with touch screen technology. The layout was designed from inception for use across many different screen types and screen sizes. Using the website from an iPad or tablet computers is just as easy as from a desktop computer. With 4 taps on the screen any Wholesale Lender in all 50 states can easily be found in seconds.
About Mortgage Elements Inc.
Mortgage Elements Inc. is an internet marketing company that provides marketing, database, search, and consulting solutions for the mortgage industry through its website http://www.MortgageElements.com. The company uses a unique website design optimized for touch screen technology and use on mobile devices, desktop, and laptop computers. Mortgage Elements is a B2B company for the mortgage industry and not a lender.
Contact Information
Mark Paoletti – Founder / President
Mortgage Elements Inc.
630-529-3755
http://www.MortgageElements.com