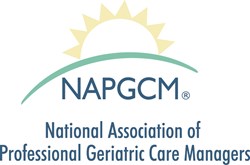 The holidays are often the best and sometimes the only time of year that family are able to check in in-person on aging parents who live alone.
Tucson, AZ (PRWEB) November 25, 2013
As millions of Americans travel this week for Thanksgiving, many adult children will spend time with their aging parents and loved ones. A record number of these older Americans are living alone. A government report found that 11.3 million older Americans -- some 30 percent of those over 65 and older fully half of women age 75 or older -- now live by themselves.
For many families, the holidays are the one time of the year they can physically "check in" on older loved ones. So it is an important chance to look for signs that older loved ones – especially those who live alone -- may need additional help or attention. To assist families, the National Association of Professional Geriatric Care Managers (NAPGCM) -- whose members are trained experts working day to day with seniors - are providing key questions to ask and warning signs to look for during holiday visits. The aging experts at NAPGCM suggest you look for these 7 potential warning signs that could mean that loved ones need medical attention or more assistance to continue living independently:
1. Changes in Physical Appearance: Do you notice either significant weight loss or weight gain? Do you notice any bumps or bruises that may indicate they have had falls?
2. Loss of Mobility: Do you notice any increased difficulty in walking or getting in and out of chairs/sofas? Do they appear less steady on their feet?
3. Decline in Home Cleanliness and Repair: Does their home look clean and well maintained or is it in need of cleaning and/or repairs? Is trash and/or clutter accumulating? Does it smell of urine or feces?
4. Reduced Ability to Prepare Healthy Meals: Do you notice a change in the kinds of foods they have (no more fresh fruits/vegetables, more frozen meals and canned goods)? Are their appliances like the stove, microwave and refrigerator in working order? Is there adequate food? Any spoiled food present?
5. Changes in Mood, Memory or Behavior: Do you notice your loved one constantly repeating things? Are you noticing increased confusion? Are you hearing from their friends that something has changed in their mood or behavior? Are they having difficulty carrying on an extended conversation? Are they showing irritability or apathy? Are they reporting more difficulty sleeping?
6 Changes in Routine: Do you notice stacks of unopened mail? Are bills not getting paid? Are medications being taken? Are prescriptions not being refilled? Are medical appointments being missed or follow-ups not being made? Have they cut back on outside/social activities?
7. Decline in Personal Hygiene: Are you noticing your loved one is unkempt, not dressing during the day like they used to; not showering and wearing dirty clothing when they do get dressed?
"We want to help people know how to spot warning signs so they can make sure their loved ones are getting the help they need," said Jullie Gray, President of the NAPGCM. "The holidays are often the best and sometimes the only time of year that family are able to check in in-person on aging parents who live alone."
These are just a few warning signs that an older adult may need medical attention or other assistance. If one or more of these warning signs are detected, it might be time to bring in a professional to help.
Geriatric Care Managers (GCMs) are an important resource to older adults and families who need assistance. GCM's expertise and day-to-day experience in the community can guide older adults and their families with choices. Beginning with an in-depth assessment, a care plan is created by the GCM and family. Together, they arrive at the best possible options. It is difficult for many adult children to navigate through the myriad of options, especially when they are at a distance, working, and/or raising their own children. A listing of Geriatric Care Managers can be found at http://www.caremanager.org.
About NAPGCM
The National Association of Professional Geriatric Care Managers (NAPGCM) was formed in 1985 to advance dignified care for older adults and their families. Geriatric Care Managers are professionals who have extensive training and experience working with older people, people with disabilities and families who need assistance with caregiving issues. They assist older adults, who wish to remain in their homes, or can help families in the search for a suitable nursing home placement or extended care if the need occurs. The practice of geriatric care management and the role of care providers have captured a national spotlight, as generations of Baby Boomers age in the United States and abroad. For more information or to access a nationwide directory of professional geriatric care managers, please visit http://www.caremanager.org.