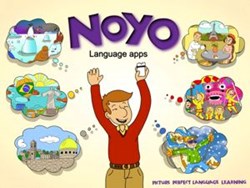 Noyo Spanish is the best vocabulary app that our middle school students use to learn new vocabulary. - Spanish teacher Mike Sullivan
Boston, Ma (PRWEB) November 26, 2013
Noyo, a Boston-based educational software company, has one of the best graphic design teams in the app market. With the introduction of the iPad Air, Noyo's quality app graphics stand out among their peers on this new device. The interactive platform that Noyo has developed to showcase their curriculum is a perfect match for today's current evolving tablet market. The app is gaining traction in the one on one iPad classroom for teachers who provide a supplement visual learning tool.
"Noyo Spanish is the best vocabulary app that our middle school students use to learn new vocabulary," adds Spanish teacher Mike Sullivan. "Our students love Noyo's laugh out loud graphics and the teachers love the build in data collection in the assessment piece of the app."
The graphic design team at Noyo is always hard at work developing new language-specific illustrations that help you learn new vocabulary in surprising and interesting ways. You can learn the names of fruits by riding a rickshaw through an open marketplace, the flags of the world by interacting with a champion skateboarder, or personal adjectives by admiring fantastic fish at an aquarium. In the Noyo Chinese app, you can learn the Mandarin names for animals by looking at the Chinese zodiac, and Noyo French teaches you basic restaurant vocabulary by taking you to an outdoor cafe in Paris.
"We have worked hard to provide quality illustrations that are funny and detailed, and that also evoke the cultures and locations for each language we teach," said Micaya Clymer, Product Manager at Noyo. "Plus, we've included recurring characters and storylines to keep students engaged."
After starting strong with the well-reviewed Noyo Spanish Vocab Builder, Noyo has gone on to create language-learning apps for Mandarin Chinese, French, Hebrew, English and Portuguese. Each app contains audio from a native speaker, interactive visual scenes, and a built-in assessment piece. App features include:
--Thousands of words and phrases, each reinforced by supporting audio, visual representation, and written translation
--Nearly 200 custom-illustrated scenes, packed with friendly characters and amusing scenarios
--Audio by a professional voice artist who is a native speaker
--Built-in assessment questions at the end of each unit
--Built-in assessment; check your stats--including how words learned, the time spent learning, and assessment scores--and email them to yourself or your teacher!
--10 targeted units, featuring vocabulary related to: food, ordering at a restaurant, transportation, cities, vacation activities, home and family, sports, animals, school, seasons
Noyo Spanish is now available for download on iTunes, Google Play, and the Amazon App store for an introductory price of $3.99. There is always a 50% volume discount for educators in the iTunes store.
Noyo is a Boston-based educational software company dedicated to providing engaging and cost effective language learning tablet apps. Noyo now offers language learning apps for Spanish, French, Portuguese, English, Hebrew and Mandarin Chinese. All apps are created by a passionate team of educators, technologists, linguists, and designers. More information can be found at http://www.noyo.com.