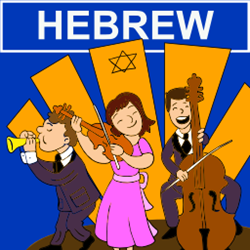 Boston, MA (PRWEB) November 27, 2013
Noyo Hebrew is Noyo's first Hebrew vocabulary app to be released in the iTunes and Mac app store. Perfect for visual spatial students seeking to build a solid foundation of vocabulary in Hebrew, Noyo Hebrew is quickly becoming an international favorite of students and teacher alike.
Noyo is glad to announce Hebrew as its latest vocabulary building app. The first Hebrew vocabulary app, Noyo Hebrew, affirms the company's mission to bridge the gap in foreign language education and innovative 21st century learning tools.
The Noyo Hebrew vocabulary app proves to be one of the most attractive tools for individual students, teachers, tutors, and parents who are trying to learn or teach Hebrew.
"Making a Learning Hebrew app was the number one request by parents and teachers alike," adds Mike Sullivan, founder of Noyo. "We were excited when we found the perfect voice talent to record Noyo Hebrew and roll out this great app."
Currently, Noyo has apps in 6 different languages that are being used in over 125 countries around the world. Noyo Hebrew is a handy, reliable, and affordable alternative to crowded classrooms or overpriced computer software. Noyo apps are great way to quickly build a vocabulary base to help students down the path to functional fluency.
Noyo Hebrew is now available for download in iTunes and Mac app store for $3.99.
App Features:

Over 1900 words and phrases, each reinforced by supporting audio, visual representation, and written translation.
177 custom-illustrated scenes, packed with friendly characters and amusing scenarios.
Audio by a professional voice artist who is a native Israeli Hebrew speaker.
Built-in assessment questions at the end of each unit.
Users can check their stats—including how many words they've learned, the time spent learning, and assessment scores—and email them to a teacher.
10 targeted units, featuring vocabulary related to: Food, Ordering at a restaurant, Transportation, Cities, Vacation activities, Home and family, Sports, Animals, School, Seasons.
Noyo is a Boston-based educational software company dedicated to providing engaging and cost effective language learning tablet apps. Noyo now offers language learning apps for Spanish, English, French, Portuguese, Hebrew and Mandarin Chinese. All apps are created by a passionate team of educators, technologists, linguists, and designers. More information can be found at http://www.noyo.com.