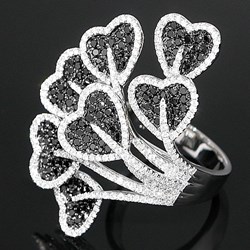 New York, NY (PRWEB) November 25, 2013
This year, Avianne & Co Jewelers is bringing a very special one-day sales event to the public. On November 29th, 2013 - otherwise known as "Black Friday" - all diamond jewelry will be available for purchase for an astounding 20% off through the use of coupon code BLK223. This unprecedented event is unmatched by other online jewelers, who generally offer a maximum discount of 10% on Black Friday.
The sale will apply to diamond rings, earrings, necklaces, and pendants purchased online at the Avianne & Co website. To take advantage of this one time offer, use coupon code BLK223 during checkout.
The sale will last from 12:00 AM on Friday, November 29th until 12:00 AM the next day. This one day sale event will all customers to purchase any amount of rings, earrings, pendants, bracelets, or any other fine jewelry on http://www.AvianneAndCo.com.
This offer does not apply to watches, but will allow customers to save an astounding 20% on all diamond jewelry at Avianne & Co. For more information, contact Avianne & Co by dialing 888-243-4344.