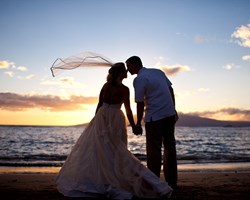 5 Great Locations for a destination wedding in Hawaii
Lahiaina, Hawaii (PRWEB) November 26, 2013
For the bride that wishes to create a destination wedding that will always be the wedding that everyone talks about, Maui is the perfect location. With the beauty that Hawaii boasts about there are very unique locations on this beautiful island to make an island wedding unique.
Taryn Stark Wyant of Platinum Weddings and Events located at Lahiaina Hawaii, shares the top five unique and beautiful locations on Maui for a destination wedding.
The Ka'anapali Coffee Farms' Estate is the perfect location for an upcoming Wedding or Event. With its elegantly rustic ambiance and vineyard-style setting, these stunning farms offer breathtaking views of the sister islands, Moloka'i and Lana'i, and are sure to leave a lasting impression on every guest that experiences these unmatched surroundings. The Ka'anapali Coffee Farms' Estate is unparalleled when it comes to exquisitely unique photo ops, with the coffee fields providing an amazing backdrop for every Maui-made memory. The Ka'anapali Coffee Farm location is available 10:00am-10:00pm and will easily accommodate 100 guest. The wedding party and immediate family will have access to the interior of the Estate: Grand Entrance, Bridal Suite, and (2) Master Suite Restrooms. Platinum Weddings and Events is the exclusive wedding planner for the Ka'anapali Coffee Farms' Estate. The stunning Westin Ka'anapali Ocean Resort Villas is another beautiful option for a Wedding or Event. Mere feet away from the Pacific's gentle shore break, their Kai Lani Lawn takes advantage of the Westin Villas' privacy and offers an exclusive view of the stunning sunsets. Pop back to the Boardwalk Lawn for a lovely destination Dinner Reception. This gorgeous lawn serves as the perfect location on property to view those unforgettable Maui rainbows above the West Maui Mountains. Westin Ka'anapali Ocean Resort Villas is an incredible venue that makes it convenient by coordinating all food and beverage directly through the Resort. A 2-night minimum stay is part of the arrangements to host an event on this beautiful property. The resort is open 10:00am to 10:00pm and can host up to 100 guest.
 
One of Maui's most beloved wedding and event locations is the Olowalu Plantation House that takes you back to true Hawai'i. No muss, no fuss, this Estate is simply stunning in its traditional Hawaiian surroundings, from the unobstructed Pacific views to the local foliage that encompasses the property. A bride and groom are guaranteed to experience Hawai'i at its best at this incredible venue. This location is available from 10:00am-10:00pm for the wedding party use. There is also an 80 decible sound restriction.
The Pacific'o Restaurant is also perfect for a wedding or event because it is an Oceanfront location. All one can see from this stunning restaurant is beach and ocean. A bride and groom will definitely know that they have arrived for their perfect destination Event when entering into this property. From a sandy ceremony out front to Hawaiian-style reception inside, Pacific'o Restaurant hosts both incredible food and beverage, as well as an incredible atmosphere. The Pacific'o Restaurant will also coordinate terrific food and beverage directly through the restaurant and they are available from 10:00am-10:00pm.
 
The fifth location that Taryn suggests is the Kapalua Bay. Situated in the cool environment of North Maui, Kapalua Bay is the perfect location for a Beach Ceremony. The peaceful bay is surrounded by lush greenery and stunning cliff views; giving everything that Maui has to offer in this one, unparalleled location! Because of Maui restrictions, no rental equipment is allowed on public beaches, there is a 25 person maximum and a licensed coordinator must be present with a beach permit. This is where the expert experience of Platinum Weddings and Events will benefit all of the planning for the perfect destination wedding to Maui.
Taryn has been an island residen for over 15 years and is very familiar with all of the beautiful locations to consider for memorable memories for the perfect Maui destination wedding. She can be reached at (808)283-6513.