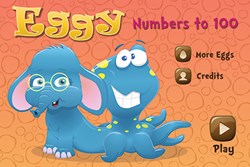 Eggy Numbers to 100 is designed to make learning math enjoyable for young children.
New York, New York (PRWEB) November 25, 2013
Reading Eggs has launched its new Eggy Numbers to 100 app for the iPad and iPhone. Suitable for children aged 5-8, this fun and motivational app includes 6 highly interactive games that teach children the mathematical skills they need for success at school.
Featuring a range of rewards, unique game play, fun animations and sound effects, Eggy Numbers to 100 is designed to make learning math enjoyable for young children.
Using the 'tap' and 'touch and drag' functionality of the iPad and iPhone, children pop balloons to practice addition, draw dot-to-dots to count and order numbers, zap space bugs to learn about multiples, group together items to practice estimation, plus many more fun activities. Each activity has either 2 or 3 levels to complete which increase in difficulty to ensure children make progress.
Eggy Numbers to 100 is available to download from iTunes for $2.99.
Eggy Numbers to 100 is the third math app released by Reading Eggs. Their first two apps, Eggy Numbers 1-10 and Eggy Add to 20, are also available to download on iTunes.
The full range of Reading Eggs apps can be viewed at http://readingeggs.com/apps.
About Reading Eggs
Developed by educators with over 25 years of experience, Reading Eggs online lessons instruct children in the five areas crucial to literacy development – phonemic awareness, phonics, vocabulary, fluency and comprehension. Reading Eggs focuses on a core reading curriculum of skills and strategies essential for sustained reading success and is suitable for children aged 3 through 13. Since launching in the United States and Canada in 2011, Reading Eggs has signed on more than 500,000 subscribers and presented more than 15 million lessons in North America.