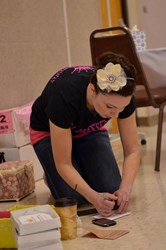 'Every girl deserves to feel like a princess for her prom,' says Anna Benefiel, Executive Director of All Dressed Up
Stayton, Oregon (PRWEB) November 25, 2013
On January 25th 2014, "All Dressed Up" a non profit group that helps dress area girls for "free" will be holding their very first Dinner/Auction Benefit to raise funds to buy dresses in sizes not always donated as well as help fund a "Scholarship Program" for girls from local high schools that have made a difference in their high schools as well as their communities. The event will be held at the Stayton Community Center at 5:00 p.m. and includes dinner, fashion show, silent and live auction as well as a no host bar.
In 2011 Anna Benefiel of Stayton, Oregon wanted to do something to benefit the surrounding communities and coming from a large family she knew that going to the Prom can be a very expensive venture in these hard times, so "All Dressed Up" was born. "Why should a girl have to spend $200 on a prom dress when someone else might have six dresses in their closest", Anna Benefiel, Executive Director of All Dressed Up.
In 2012 the Non Profit group was able to collect over 700 donated dresses, shoes, jewelry and make up samples all to give away Free to any teen with school ID. It started in 2011 in the Stayton Library meeting room, but by 2012 the event was held in the Stayton Community Center with lots of help from volunteers. Some donations come from individuals and there are drop sites set up for those that want to re donate their dresses. Other donations come from places locally Simply Grand Bridal, Bridal Gallery, Funky Monkey, Plato's closest as well as some designer dresses donated by nationally recognized designers.
This year, Shabby Chick Bridal and the famous (Say Yes to the Dress) Kleinfields of New York donated some floor model Wedding Dresses as well as some Jimmy Choo shoes that All Dressed Up will be auctioning off at our event to those would be brides.
The event has items for everyone including those men that want to help us raise funds, some of those items include a new Smoker, Custom Built Fishing Rod, Date Night Basket, Family Fun Packages, Oregon Brewery Basket, Outdoorsman Basket, Zip Line Tour, Fun Birthday Party Packages and more. All items have been donated by area businesses who have helped make this fundraiser a reality.
Tickets are on sale now at $25.00 a piece, and you can call 503-881-0711 or email taby02@hotmail.com to obtain the tickets. Tickets must be purchased in advance. We are still accepting donations for items for our live and silent auctions also! We hope that the communities from Salem to Albany, Silverton to Stayton will help us so we can continue to make our daughters feel like princesses on prom night.