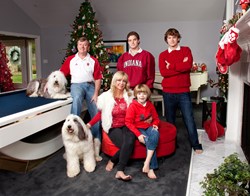 As family gathers for the holidays, it is a perfect time to update the family portrait.
Carmel, Indiana (PRWEB) November 26, 2013
When is the best time for a family portrait? A common questions that we at Wyant Photography are often asked. Often families think of family pictures for "big event" times like a wedding or family reunion. Or especially for times of family changes; like a new grandchild or maybe an engagement.
But the best time to consider a family pictures, is when the family is together. Like for the holidays.
The American travelers for the year end holidays is predicted to be 93.3 million, which is a 1.6 percent increase from last year. This means a lot of families are getting together for the holidays which makes it the perfect time to update a family portrait.
With all of the busyness of family gathering; cleaning the house, groceries and cooking, buying gifts, etc. Often the thought of a family portrait might be last minute or thought of after the last family member has left and then it's "oh, we were all together, we should of had a family picture taken."
As soon as dates of arrival and departure are confirmed, it would be a great time to get on the calendar of a qualified photographer. It is important to have a reputable and experienced photographer for a large family gathering. This type of portrait requires more knowledge in posing and lighting to make sure that one will have a quality portrait to share with friends and future generations.
The next step will be to advise family members on clothing to bring for the family portrait. The most important item to communicate with family is to make sure everyone is wearing solid colors, no patterns in the clothing. Then it will be wise to coordinate the clothing colors. For simplicity it is easy to ask everyone to wear either black, khakis or jeans. Then the tops can either be; everyone wear a shade of a specific color, the guys wear one color and the girls wear a complimentary color or assign each family a specific color. It is good to avoid bright colors like red, orange, yellow or white. Shoes are actually important to coordinate as well, try to avoid shoes that are white, have any florescent color or shoes with patterns. It is better to make sure everyone has black or brown shoes. Also, avoid white or bright colored socks.
The color coordination is important to make sure that the main focus in the portrait will be the faces and that there won't be any distraction from the clothing.
The last decision to coordinate is the location for the family portrait. Options could include the family home, a country club or hotel or the photographers studio if it is large enough to for the size of the family.
Wyant Photography does offer family sessions at either a location of the families choice or their studio will accommodate a family of up to 30 people.
Take advantage of the upcoming holiday season while the family is together and save those family memories in a unique family portrait that will become an heirloom for the whole family.
Wyant Photography can be reached at (317)663-4798, or one can visit the website at http://www.wyantphoto.com for ideas to create a great family photo.