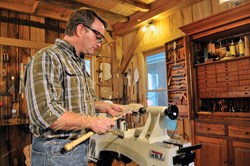 LaVergne, TN (PRWEB) November 25, 2013
Winter weather brings most woodworking projects indoors, and woodworkers generally spend more time in their workshops. Woodturning, in particular, has become increasingly popular among enthusiasts, some of whom have turned their hobby into a business.
Why not suggest giving JET tools as Christmas gifts?
On Black Friday, JET will offer 15 percent off all woodworking machinery and 20 percent off all woodworking accessories. JET has added hot deals on the following woodworking tools:
Any woodworking enthusiast will breathe easier with the JET AFS-1000B air filtration system (708620B), which will be discounted 30 percent on Black Friday. Ideal for the home shop, this powerful unit helps clear the air by handling 1,000 cubic feet of air per minute. It features three speeds, a timer and remote control. A two-filter system with diffuser distributes outgoing air in a broad pattern.
JET's 1221VS Woodworking Lathe (719200) is ideal for enthusiasts seeking big-lathe capabilities and ease-of-use in limited shop space. It delivers more control than other models in its class by incorporating three speed ranges from 60 to 3600 rpm, including lower speeds for intricate, ornamental turnings. The mid-size lathe also features an exclusive ratchet-style belt change system, forward-reverse without stopping, digital readout control and other sophisticated features and woodturning capabilities. The lathe's matching stand (719202) will be discounted 50 percent on Black Friday.
The new JET 15-inch Woodworking Lathe is available in a standard version, Model 1015 (719100) and variable speed version, Model 1015VS (719110). This sturdy, smooth-running mini-lathe provides optimum control, as well as positive-locking indexing and other sophisticated features. It has the power, precision and versatility to turn out any number of projects, ranging from pens, bottle stoppers and drawer pulls to hollow vessels, platters and chair spindles. The lathe's stand (719102) will be marked down 50 percent on Black Friday.
JET's entire line of parallel clamps, ranging in size from 12 to 98 inches, will be discounted 50 percent for Black Friday. These woodshop staples make glue-ups easier. Their composite resin jaw faces ensure even clamping pressure and help prevent marring. They are designed to provide precision and power with exact 90 degree clamping at up to 1,000 lbs. pressure. An ergonomic, soft-grip handle provides comfort and a sure grip. The clamping jaw can be reversed for use as a spreader.
Keep woodworking tools sharp with JET's 8-inch Woodworking Bench Grinder (726100). This slow-speed (1725 rpm) grinder is equipped with two high-quality Norton® wheels, an 80-grit 3XTM Blue Ceramic Alumina K Grade for coarse grinding and a 100-grit Aluminum Oxide for finish grinding. Oversize tool rests have integrated angle indicators and reference lines for precise alignment. The grinder's tool stand (577172) will be discounted 50 percent on Black Friday.
Visit jettools.com for more information or to locate a dealer for these and other JET tools and accessories.