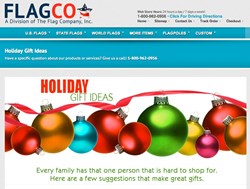 Flags and many, many accessories make wonderful gifts.
Atlanta, GA (PRWEB) November 26, 2013
Original holiday gift ideas are ready now at The Flag Company, Inc.'s website Flagco.com with selections ranging from flags, flagpoles, kits, solar and beacon lighting options, along with Feel Good Light Ups decorative light lenses, flagpole holiday LED light decorations, and much more, all sure to please many family members, especially the "hard-to-shop-for."
With the holiday shopping season now upon us in earnest, The Flag Company, Inc. announces its Flagco website page dedicated to unique ideas and gift solutions for the holidays. Shopping is easy and as always, the same advantages such as courteous customer support, same day shipping for in-stock items, and free shipping options on select items are also available.
For the ultimate football fan and game attendee, The Flag Company, Inc. offers the popular telescoping tailgating flagpole to be used at the games. This 16 ft. Valley Forge pole offers fans portability and easy set-up for pre-game festivities. Fly more than one flag so your friends and family can easily find you amongst the sea of fellow fans.
"Flags and the many, many accessories can make wonderful gifts," says Mike Lawrence, Vice President of The Flag Company, Inc. "Many of our products finish as 'must-have' items for people."
The Flag Company, Inc., ships directly to a customer's door, and in most cases an order placed by 2 p.m., Eastern Standard Time (EST), leaves the warehouse that same day. Free shipping is also available for many items and in other cases with orders of $75 and up.
About The Flag Company, Inc.
As the largest online flagpole supplier, The Flag Company, Inc. offers a complete range of flags and flag-related products in addition to its line of flagpoles and signature Flagpole Beacon. Custom screen-printing and digital printing are available for special events, corporate logos, etc. Stock merchandise includes U.S., state, international, and military flags, and all types of accessories such as bunting, memorial cases, pennants, and more. The Flag Company, Inc. is the nation's largest producer of message flags, offering over 300 different messages used by realtors, restaurants, car dealerships, and any other kind of company imaginable. Toothpick flags—both stock and custom-made to order— are also available. The complete product line can be viewed at http://www.flagco.com. "Feel Good Light-Ups," a decorative light lens for fluorescent light fixtures, are now so popular there is a dedicated website at http://www.feelgoodlightups.com. Flagpoles and Flagpole Beacons are featured at http://www.flagpolewarehouse.com. Toothpickflag.com has a wide selection of toothpick flags for any occasion, party or corporate event, with a custom department for that one-of-a-kind special design.