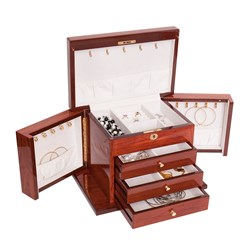 Extremely Versatile!
Richmond, VA (PRWEB) November 25, 2013
With the holiday season right around the corner, everyone is on the lookout for unique and special gift ideas. In particular, Baby Boomers are looking to give their loved ones pieces that reflect a thoughtful relationship while holding a timeless quality. Chasing Treasure, an online retailer specializing in jewelry boxes and jewelry storage, offers luxury jewelry boxes that are just the right blend of function and beauty.
Evoking at once a classic charm and a modern sensibility, luxury jewelry boxes are functional and decorative heirloom pieces, and ideal gifts for wives and mothers. These high-end boxes are handcrafted from the finest materials: "birds-eye maple, teak, bubinga, cherry, and mahogany, plus luxurious cases crafted of fine rich leather." The attention to detail is undeniable, as each piece has "hand cut wood tops, sides and drawers; ending with hand applied piano finishes and luxurious fitted linings."
The prices for luxury jewelry boxes varies widely, from $58 for a very small, but well made jewelry case, to over $700 for floor standing armoires or top quality dresser chests. This variance also gives the most choices for budget, style, and type of material. Chasing Treasure suggests looking closely at Bubinga Wood styles: these are the most exotic and beautiful woods.
The Luxury Collection by Chasing Treasure includes jewelry chests, boxes, and armoires to accommodate a wide range of jewelry collection sizes. Each piece protects precious heirloom jewelry while ensuring that it remains tangle-free and easily sorted. For a personal touch, many of the luxury jewelry boxes can be monogrammed.
Moreover, these luxury jewelry boxes are available in different aesthetic styles: traditional, antique, and modern. In fact, the designs are so timeless and the construction so sound, the box itself can be an heirloom: "The quality and appearance of gorgeous luxury wooden boxes make for family heirlooms that will remain functional and design-relevant for decades, and can be handed down from generation to generation." Whatever your gift recipient's personal style or storage needs, Chasing Treasure has the luxury jewelry box they'll cherish for years to come.
If you're looking for a functional gift with exceptional design and value, the luxury jewelry boxes collection from ChasingTreasure.com is the perfect solution this holiday season.