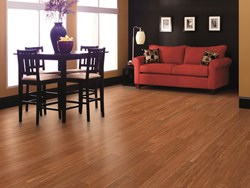 Great savings on all of the flooring needs from DirectBuy of Indianapolis.
Indianapolis, Indiana (PRWEB) November 29, 2013
With the holidays around the corner what would make your holiday sparkle? Or, maybe a new look for a floor in one of your most used rooms could be on your Santa's wish list. In an effort to help the public with all of the types of flooring that is available for a new remodeling project, DirectBuy of Indianapolis is launching a series of websites with tips and instructions on the process to complete those projects.
One of the topics covered will be flooring of different styles; area rugs, carpet, hardwood, laminate, tile and vinyl.
Flooringindianapolisind.com is designed to give details and examples of different types of flooring that is offered at DirectBuy of Indianapolis. This website will help to prepare a remodeler with the basic steps to change that worn out flooring to the flooring that they have always wished to have in their home. Information will continue to be added to the website that will feature information videos by vendors and tips from installers on the best selections for floorings.
There are several advantages to using DirectBuy of Indianapolis for all of the flooring projects: experience, dependable installers, quality products and great pricing, the new website highlights these advantages.
The service staff at DirectBuy of Indianapolis has many years of home improvement experience and are very knowledgeable about the products needed for a flooring remodeling. Tom Kahn has experience in the retail and installation process of flooring and with his knowledge he is able to guide the members to help make a wise selection for the type of room that they wish to add flooring, but to also be a great source for helping to make sure the correct amount of flooring is ordered for the room.
The staff at DirectBuy of Indianapolis provides top notch service which was proven with the "2013 Service Award" that was presented to them this past summer at a national conference in San Francisco. This award is based on members survey scores, purchase orders, member renewals, order accuracy and on time delivery.
In addition, DirectBuy of Indianapolis has a referral list of preferred installers. Each installer has been approved by the DirectBuy of Indianapolis service staff, for quality installation and service. This list is shared with all of those who would select to save money with DirectBuy of Indianapolis for their flooring project products from carpet, tile, vinyl and hardwood.
DirectBuy offers mid to high end products for the new flooring project. Select from manufacturers like Mohawk, Shaw, Tuftex, Masland, Fabrica, US Floors, Kahrs, Armstrong, Indus Parquet and more.
But, the best service that DirectBuy of Indianapolis gives for a flooring project would be the great pricing. DirectBuy offers over one million products from over 700 quality manufacturers to its members at manufacturers' pricing. Because DirectBuy offers direct purchase from the manufacturer a member can save 20-50% off of the "sale" price of the big box store. When considering a home remodeling project either for the kitchen, bathroom, family room, bedroom or any room in the home, buying direct allows consumers to save a lot of money.
DirectBuy of Indianapolis invites consumers to a Free Savings Seminar to share details on how DirectBuy can purchase items at direct manufacturing prices from over 700 suppliers. In many cases consumers find they can purchase higher quality products at lower prices.
Schedule a Free Savings Seminar by calling (317)472-9810 before the end of the year and receive a VIP Package at the time of the visit. DirectBuy of Indianapolis is located at 8450 Westfield Boulevard which is close to the Range Line and Westfield Boulevard intersection, next to the YMCA.