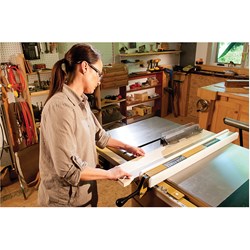 LaVergne, TN (PRWEB) November 26, 2013
This year, Powermatic is offering across-the-board Black Friday savings of 15 percent on all machinery and 20 percent on all accessories.
Here are some items for the woodworker's Black Friday wish list:
The PM1000 10-inch Table Saw (1791000K and 1791001K) has evolved from the elite PM2000 and PM3000 models. It offers many features of full-size cabinet saws yet operates at 115V, so the shop or garage doesn't have to be wired for 230V service. The PM1000 has a cast-iron, precision ground tabletop and a 30 inch maximum rip capacity to the right of the blade. A 1-3/4 hp, single-phase induction motor drives the machine and incorporates a poly-V belt drive system, oversized pushbutton on/off switch and magnetic key. The cabinet base is fully enclosed and has a rear, 4-inch dust port and hinged motor cover for easy access. Ergonomic, 7-inch handwheels set blade height and bevel adjustments.
The PM1500 15-inch Bandsaw (1791500) has a full 14 inches of resaw height, fully adjustable fence, multi-step blade tensioning, precision guide and thrust bearings, and heavy duty steel and cast iron construction throughout. The steel cabinet doors are secured with all-metal, rotating cam locks. The bandsaw is driven by a 3HP, 1PH, 230V motor that's hungry for hardwoods and other tough cutting jobs. Its poly-V belt drive system delivers a blade speed of 3100 SFPM. The precisely ground 21½ inch x 16 inch cast iron table tilts 45° to the right and 10° left, using a cast-iron handwheel. Powermatic's exclusive Accu-Fence assures proper alignment and accuracy.
The Powermatic PM2800B 18-inch Drill Press (1792800B) is loaded with features drawn from user input, such as 6-inch quill travel with a single revolution of the handle. The handwheel controls a variable speed system, allowing the user to run the full range of speeds without having to reposition belts. The drill press also features a front panel digital readout to monitor spindle speeds from 250 rpm to 3000 rpm. A 20 inch x 14 inch cast iron table is equipped with an easy-to-use fence, secured by two cam locks. Two LED lights flood the work area for shadow-free viewing. Plus, twin lasers provide the tool point location. The drill press is powered by a 1 hp, single-phase, 15-amp motor (115/230V) that's prewired for 115 volts. It is equipped with a keyless 5/8 inch chuck.
For more information on Powermatic machinery and accessories, or to find a local dealer, visit http://www.powermatic.com.