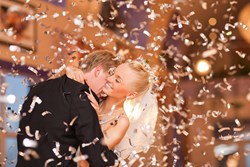 New York, NY (PRWEB) November 25, 2013
Wedding planning just got easier for couples looking to find their perfect Wedding playlist. Brides and Grooms can now find dozens of Wedding song selections played at recent Weddings. Wedding DJ company Seward Park Tech has added additional Wedding pages containing thousands of song selected by Brides and Grooms with the assistance of their Wedding DJ. These pages can be found at http://www.w3ddingdj.com/wedding-song-picks.
To find Wedding Receptions that used a specific song or artist, use the search box at the top left of the wedding song webpage to input your selection, and the website will generate Weddings where these songs were used. "Finding the perfect Wedding song can be very time consuming, and by adding these pages with photos, videos and song links, we can help our couples as well as anyone with internet access to tap into a huge database of real Wedding reception music," says Kieffer Ramirez, President at Seward Park Tech.
In addition to the above Wedding song selections, the website also contains song suggestions for different potions of the reception including Bouquet Toss Songs, First Dance Songs, Father Daughter Songs, Cake Cutting Songs, Entrance Songs, Garter Toss Songs, Mother and Son Dance Songs, Last Dance Songs and Line Dance Songs.