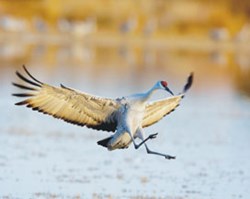 "It feels eerie. We are listening to private family and clan conversations of a species that has been uttering them for millions of years." - Crane-viewing guide Peg Abbott
Lincoln, Nebraska (PRWEB) November 27, 2013
Naturalist Journeys, a top Nature Tour Company, announces their annual March Nebraska Platte River Guided Birding Tour of the famous Sandhill Crane Migration. The company's expert birding tour guides, Ed and Sil Pembleton of Minneapolis, make an annual migration to the site as well. Since 1968, they take a month of their lives to be present for the birds and the people who view them, leading tours for Naturalist Journeys and volunteering for the Rowe Audubon Sanctuary, where one can view the cranes from blinds at remarkably close range. From March 10 to March 16, 2014, wildlife fans and birdwatchers can join them on Naturalist Journeys' birding and nature tour, named "Platte River Cranes & Prairie Chickens," a week-long, in-depth guided experience.
Abbott says, "For sunrise viewing, we enter the blinds in the dark, where we stand quietly, absorbing sometimes bone-chilling cold. But winter's grip is completely forgotten as the cranes begin to call, a sound that builds and builds until it explodes. It feels eerie; we are listening to private family and clan conversations of a species that has been uttering them for millions of years, walking on sandbanks of great rivers. It is a sound so deafening that by the time they take flight the resonance and urgency stays etched on my soul, something I can recall in an instant." Ed Pembleton explains that by March, 80% of the world's population crowds a 150-mile stretch, the largest gathering of cranes anywhere in the world. Along the Platte, in a stretch with shallow, braided stream channels, they rest and refuel before continuing on to breeding grounds in Canada, Alaska and Siberia. Among the cranes are a few of their endangered cousins, Whooping Cranes, and over 10 million ducks and geese.
For a complete tour itinerary, go to http://www.naturalistjourneys.com/jcalendar/jc_platteriver14.htm.
Expert Guides Lead This Nebraska Bird-Watching Tour
"Our first trip to see the cranes was in 1968," says Ed Pembleton, scheduled to guide this Platte River birding and nature tour along with his wife Sil. "At the time, there were no nature centers, interpretive signs or local people that could tell us much about the birds. We began driving roads to see where the birds had gone and what they were doing. Our explorations soon indicated that birds stayed within 2-3 miles north or south (preferred) of the Platte River. That first year, sunset came and we were absolutely amazed — the hook was set. What a sight!"
More on Platte River Cranes & Prairie Chickens Birding Tour, March 2014
A highlight of this journey is a chance to visit the famed Audubon Rowe Sanctuary. Naturalist Journeys has reserved blinds at Audubon's Rowe Sanctuary for their Platte River birding tour participants, for prime views of the cranes in areas along the river's edge. With an expert crane naturalist from Audubon, participants will experience the almost deafening chorus and clamor of tens of thousands of cranes taking flight toward the cornfields and prairies where they will forage during the day. Complementary to the experience with cranes is the opportunity to witness an oddity of nature, the spring dance which serves as courtship rites of Greater Prairie Chickens and Sharp-tailed Grouse. By this time in March they will have started their dawn-hour dancing and booming at lek (dancing ground) display sites. Accommodations for the Platte portion of the journey are in Kearney, and for the "chicken-dance" days, at the award-winning ecotourism ranch of Calamus Outfitters. This tour is limited to 12 participants.
About Naturalist Journeys, a Top Small Group Adventure Tour Company
Naturalist Journeys specializes in small group birding tours and natural history tours of key sites across North and South America and around the world. The company's expert guides lead participants on intimate small group tour journeys for bird-watching, wildlife-watching and other forms of eco-tourism. Naturalist Journeys is a small adventure travel company that puts people, places and remarkable experiences together. Their style of environmental tourism focuses on nature — specifically birdwatching, natural history, geology and geography.