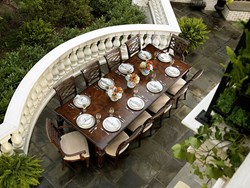 Sacramento, California (PRWEB) November 26, 2013
Tucked away in the rolling mountains of Asheville, N.C., the Vanderbilt mansion stands as one of the most exotic estates in North America. The Vanderbilt's legacy was not just the railroads, as Cornelius' grandson, George Washington Vanderbilt, erected the largest known residence ever constructed for a private citizen. Known as the Biltmore Estate; it is, to this day, a colossal structure that houses the finest artwork, books and classic furniture pieces.
The Fine Furniture Design team spent many hours learning about Biltmore and how to eventually develop the line. This team went into the Biltmore Estate, talked to curators about the heirloom furnishings and took time sketching and taking necessary photographs. The team's hard work brought about the inspired pieces that are now showcased by Fine Furniture Design. The elements that are reflected in every Biltmore piece reflect the rich history of the estate, its architecture and its elegance. These wooden pieces play a very important role in creating a tasteful yet comfortable atmosphere in a home. To view images of this collection visit http://mccreerysfurnitureblog.com/.
Every bedroom, living room, kitchen, foyer, or patio will have an instant focal point in the furniture bought from McCreery's Home Furnishings. The simple or intricate carvings in each piece have a marked resemblance of the rich era when the Vanderbilts still occupied their vast property.
The Louis dining table complete with lattice side and arm dining chairs, alone, feature carvings and contours that signify sophistication. Add to these the Stuyvesant display cabinets, mirrors, side tables, lamp tables, sofas, ottoman, benches, and media rack and a homeowner is sure to have a home that will be remembered.
The Biltmore Collection also boasts of handcrafted fabrics numbered at 40. As for the upholstered furniture, the leading pieces to date are the English sofa, English chair, legged stools, library chairs, the Hamilton arm chair, and the Comtese Wing Chair which was aptly-named to honor Susan, Edith Vanderbilt's sister who was married to a Viscount from France.
Biltmore embodies the beauty and essence of the Vanderbilt estate, and it has all been created to fit wonderfully in the homes of today. Use pieces to mix with existing home furnishings or combine them to create your very own masterpiece. We invite you to come touch, feel and experience the Biltmore collection for yourself. Discover the Biltmore collection by Fine Furniture Design at McCreery's Home Furnishings, online at http://www.mccreerys.com.