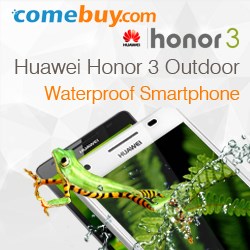 Huawei Honor 3, one phone to rule them all.
Hong Kong, China (PRWEB) November 28, 2013
On November 20th, Huawei announced the launch of the international version of Honor 3 outdoor, which is a quad-core smart phone that supports three-proofing function with high performance-price ratio.
The Huawei Honor 3 outdoor is claimed to be water and dust resistant to a level of IP57, making it resistant not just to wet hands but to immersion under water. Wading screen or wet fingers, you can still operate the phone well.
Huawei Honor 3 outdoor is a mid-level device featuring a 4.7-inch display at 1280 x 720. The smartphone selects Huawei's own quad-core Hass K3V2 chip running at 1.5GHz, combined with 2 GB of RAM and 8 GB of internal storage which is expandable with a micro SD card.
It also uses a unique power-saving technology to save electricity by 20% to 30%, effectively extending the hours of entertainment. The Honor 3 is also packing an infra-red (IR) sensor that will allow you to use the phone to remote control home appliance.
Huawei Honor 3 features 13.1 megapixel Exmor RS rear-facing camera, using five high-precision lens sheet with special blue glass that can filter the infrared to achieve good light gathering and provide the basic protection for outstanding images.
The author says, with a quad-core processor, 2 gigabytes of RAM and a roomy 4.7 inch HD screen, the Honor 3 is well above other mid-range phones. The included camera is also better than that of most smartphones. It's not as good as a few specific models with high-end cameras, but the Honor 3 is definitely better equipped in this regard than most smartphones out there.
The international version of Huawei Honor 3 has met the needs of different users. It is rumored to take on Samsung, rivaling the Galaxy S4.
Comebuy has been an agent of Huawei since October 2013. Huawei Honor 3 is now available with a price tag of 359.18 dollars at this online store for Chinese phones and has enjoyed great popularity among customers. For more information, please visit Comebuy.com.