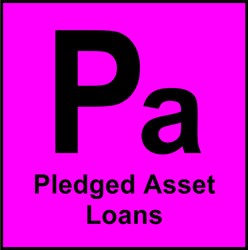 The benefits of a Pledged Asset loan are speed, simplicity and minimal paperwork.
Chicago, IL (PRWEB) December 10, 2013
One of the consequences of the 2008 Financial Crisis has been the tightening of mortgage underwriting standards. Many Economists have pointed to loose mortgage underwriting as the primary cause that precipitated the collapse of home prices. But as the housing market struggles to recover, many mortgage professionals feel the pendulum has swung too far and qualified borrowers are being denied. Because of this, more potential home buyers are exploring alternative financing options such as a Pledged Asset loan to purchase or refinance a home.
What is a Pledged Asset loan? It is a very simple form of lending where financial securities such as stocks or bonds are pledged as collateral for a loan as compared to a traditional mortgage where the property is pledged as collateral. This type of financing has been around for decades and is a major source of lending by banks but has not typically been offered through the Wholesale Mortgage channel to Mortgage Brokers. These loans can also go by the name of Asset Utilization or Asset Depletion loans and have benefits to the right borrower compared to traditional mortgages.
The benefits of a Pledged Asset loan are speed, minimal paperwork, and simple qualifying guidelines. The typical time frame for a mortgage now takes 30 to 60 days from application to closing. Borrowers are required to provide reams of documentation and go through multiple layers of underwriting before they are approved. With a Pledged Asset loan, qualifying guidelines are simple, documentation is minimal, the approval process is straightforward, and it takes days instead of weeks to close the loan.
As can be predicted, this type of financing is not for everybody. Pledged Asset loans require that the borrower have substantial assets in securities and other liquid or non-liquid investments. However, it is a valuable resource for Mortgage Brokers that enables the right type of borrower flexibility and financing options not found in traditional mortgage lending.
To find Wholesale Lenders that offer Pledged Asset loans, go to http://www.MortgageElements.com. From the home page, click on the symbol PA (for Pledged Assets in the lower right hand corner of the table), choose a state from the drop down box, and click go. The next page will appear listing Wholesale Lenders that offer Pledged Asset loans in that state.
Searches for Wholesale Lenders can be conducted from an iPad or tablet computer at http://www.MortgageElements.com. The website is optimized for touch screen technology and designed for use across many different screen types and screen sizes. Using the website from an iPad or tablet computer is just as easy as from a desktop computer. With 4 taps on the screen, any Wholesale Lender in all 50 states can easily be found in seconds.
About Mortgage Elements Inc.
Mortgage Elements Inc. is an internet marketing company that provides marketing, database, search, and consulting solutions for the mortgage industry through its website http://www.MortgageElements.com. The company uses a unique website design optimized for touch screen technology and use on mobile devices, desktop, and laptop computers. Mortgage Elements is a B2B company for the mortgage industry and not a lender.
Contact Information
Mark Paoletti – Founder / President
Mortgage Elements Inc.
630-529-3755
http://www.MortgageElements.com