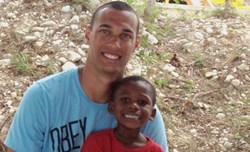 " This campaign signifies the first step in bridging the gap between vision and reality," says Patrick Nelson
New York, New York (PRWEB) November 26, 2013
New York Jets' Wide Receiver David Nelson is encouraging his fans and child advocates to support a longtime dream of i'mME, a non-profit Christ-based organization he established with his brothers, Patrick and Daniel. I'mME is leading a mega effort powered by Indiegogo.com to raise funds to build a residential village for orphans in Haiti.
The "House the Vision" campaign is the first official project for the Haiti housing endeavor. The ultimate i'mME goal is to establish Haitian residency by procuring a house and a car to cement its presence in the country, a vital step in the process of serving God's children. Additionally, the organization will seek to attain legal guardianship over the children and to assemble a Haitian staff.
The concept of a traditional orphanage will not be instituted, rather the implementation of a family-style children's village with individual cottages will be the focus of change through the i'mME vision. The plan is to house a total of 100 orphans (7-8 orphans in each cottage). A unique aspect is that each cottage will be spiritually enhanced with a house mother to cater to the children's individual needs on all levels. These designated matriarchs will minister to the children and provide a sense of belonging that will encourage a familial bond.
"This campaign signifies the first step in bridging the gap between vision and reality, and to host the hope and empowerment that we as brothers have for many orphaned children in Haiti," i'mME Co-Founder Patrick Nelson said.
In order to execute God's vision, i'mME is counting on its staunch supporters to help turn a dream into a reality. The designated financial allocation will support "House the Vision": $17,000 will provide 12 months of rent and utilities; $23,000 will enable the purchase of a vehicle for transportation; $5,000 will support home furnishings; $5,000 will be designated to hire translators and Haitian staff.
Pledges can be made via the Indiegogo website: http://igg.me/p/house-the-vision/cstw/5455787 through January 1, 2014. For further information on i'mME, please visit http://www.imme.org/.