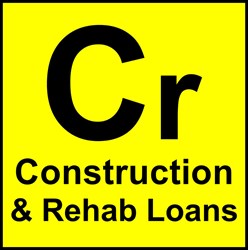 Mortgage Brokers use Mortgage Elements to find Rehab and Construction Lenders.
Chicago, IL (PRWEB) December 17, 2013
The National Association of Home Builders (NAHB) reported that remodeling activity has continued its increase into the third quarter of 2013. The NAHB tracks remodeling activity with its Remodeling Market Index (RMI) on a quarterly basis. The latest RMI shows remodeling activity has increased to its highest level since the first quarter of 2004. Increased home equity and sales of existing homes are the primary drivers of this recent activity. Remodeling activity typically tracks with existing home sales. Home owners are more likely to fix up their homes just before they put them on the market in hopes of receiving a higher sales price. Buyers purchasing an existing home are also likely to do alterations shortly after moving into their newly purchased home.
The RMI tracks remodeling activity in 3 categories:

Major additions and alterations
Minor additions and repairs
Maintenance and repairs
All three categories of the RMI index showed increase activity in the last reporting quarter of 2013. Along with a pickup in existing home sales, the RMI index is helped by an increase in home equity as real estate values rise. Home owners have more equity in their homes to use for repairs and maintenance. They also feel confident home values will continue to rise and money invested in home remodeling will not be wasted.
Search data for Mortgage Elements coincides with the RMI index. Searches for Wholesale Lenders offering Construction and Rehab loans has increased from 3.5% of searches in March 2013 to 6.5% in October 2013. If searches for FHA 203K rehab loans are included, the percentage jumps to 11.7% in October.
Mortgage Elements maintains a database for the Wholesale Mortgage industry through its website http://www.MortgageElements.com. Mortgage Brokers use the database to search for and find Wholesale Lenders offering specific mortgage programs in their state, such as construction, rehab, and FHA 203K loans. The database includes over 150 Wholesale Lenders and the mortgage programs they offer. Access to the database is free for Mortgage Brokers and free for Wholesale Lenders to be listed.
To find Wholesale Lenders that offer Rehab loans, go to http://www.MortgageElements.com. From the home page, click on the symbol Cr (Cr stands for Construction/Rehab loans - the symbol is located in the specialty section near the bottom of the program table), choose a state from the drop down box, and click go. The next page will appear listing Wholesale Lenders that offer Construction and Rehab loans in that state.
Searches for Wholesale Lenders can also be conducted from an iPad or tablet computer. The website is optimized for touch screen technology and designed for use across many different screen types and screen sizes. Using the website from an iPad or tablet computer is just as easy as from a desktop computer. With 4 taps on the screen, any Wholesale Lender in all 50 states can easily be found in seconds.
About Mortgage Elements Inc.
Mortgage Elements Inc. is an internet marketing company that provides marketing, database, search, and consulting solutions for the mortgage industry through its website - http://www.MortgageElements.com. The company uses a unique website design optimized for touch screen technology and use on mobile devices, desktop, and laptop computers. Mortgage Elements is a B2B company for the mortgage industry and not a lender.
Contact Information
Mark Paoletti – Founder / President
Mortgage Elements Inc.
630-529-3755
http://www.MortgageElements.com