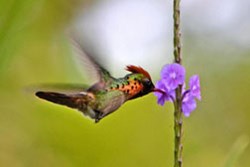 Miami, FL (PRWEB) November 28, 2013
Caligo Ventures, a program of Naturalist Journeys, offers a bonus to birding and nature tour participants on this year's New Year's Trinidad and Tobago Birding and Nature Tour – the opportunity to participate in Trinidad's annual Christmas Bird Count (CBC). Asa Wright Nature Centre is recognized as a world leader in ecotourism. Its CEO, staff members, Board members, and expert guides take part in the CBC each year, often as the sponsoring organization. Caligo Ventures' Dec. 27-Jan. 5 participants have a chance to add their eyes and ears to the effort, as teams of six to eight persons fan out from a count center near Arouca, taking in habitats that range from open savanna to mangrove swamps and lush montane rainforest. Results of Christmas Bird Counts, started in the USA in the year 1900, have proven valuable in efforts to monitor species and population trends over time.
Trinidad has one of the longest-running Christmas Bird Counts in the New World Tropics. It was first organized in 1969 by Richard ffrench, a British ornithologist and Trinidad and Tobago field guide author who did much to promote birding and conservation in Trinidad and its sister island Tobago. Trinidad to date has been the only country and the only Count to report Oilbirds, an odd, nocturnal fruit eating bird that nests in a protected cave on the Asa Wright Nature Centre grounds. Other unique species include Trinidad Motmot and, in some years, rare Trinidad Piping Guans, a critically endangered species. Caroni Marsh counters witness Scarlet Ibis coming to roost by the thousands – providing them a challenge and feast for the eyes. Caligo Ventures' tour group participants have an advantage many count participants in a new count circle do not, that of being with an expert guide, and having two full days to scout the various habitats. Trinidad is one of the easier countries for USA observers to join a count, as locals speak English, allowing the exchange of knowledge to flow with ease.
Geoffrey LeBaron is the coordinator of Audubon's Christmas Bird throughout North, Central and South America. He is editor of the Christmas Bird Count summary and publications. In his 113th CBC Central and South America Regional Summary, LeBaron cites Trinidad's long-standing count as having significant value, having been run each year since 1969 (that first year 4 participants found 117 species). In Trinidad this past year, 39 observers tallied 183 species, just shy of the last 20 years' high count of 211 species in the year 2000. Audubon recently announced that participation in the event, scheduled between Dec. 14 and Jan. 5 (in Trinidad on Dec. 30, 2013) is now free.
Three nights of the tour are spent on Trinidad's Caribbean-influenced sister island, Tobago, where a second CBC for the nation has been run on the west side of the island in some years. While scheduling for a Tobago count is uncertain for this year, participants will take a boat trip to Little Tobago Island, one of the nation's most important wildlife sanctuaries. They will also bird on trails of the Tobago Main Ridge Forest Reserve. Established in 1776 and a UNESCO World Heritage Site nominee, it is on record as the oldest legally protected forest reserve geared specifically toward a conservation purpose.
More about Caligo's Trinidad and Tobago Tours
The December 27-Jan. 5, 2013 Trinidad and Tobago Birding and Nature Tour features 6 nights at the Asa Wright Nature Centre and 3 nights at the Cuffie River Nature Retreat on Tobago. Round trip airfare between Trinidad and Tobago is included, as well as all meals, and transfers and tours with expert birding guides. Tours are limited to 12 participants. For more information, go to Caligo Ventures' website at http://caligo.com/trinidad-tobago-tour-dates-and-prices.
More about Naturalist Journeys
Naturalist Journeys LLC, a top birding and nature tour company, offers specialty small group tours and travel worldwide, from the western U.S. to Alaska, Hawaii and Florida, Trinidad and Tobago, Costa Rica, Panama, safaris in Africa and more. Naturalist Journey's guided nature and birding tours feature expert guides with decades of experience in birdwatching, travel photography and other forms of eco-tourism. Naturalist Journeys also offers hiking and adventure travel tours in many national parks and wildlife reserves, including the Galapagos, Antarctica and the Amazon.