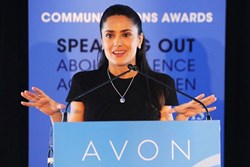 Every place in the world has a problem with domestic violence.
San Francisco, CA (PRWEB) November 25, 2013
Today, the Communications X-Change (X-Change), a user-generated digital library of communications material focused on preventing global gender-based violence, announced a call for submissions for the 2014 Communications Awards. Organizations around the world, including governments, can submit material to the X-Change by January 31, 2014 to be eligible for one of five grants totaling $25,000.
The Communications Awards, now in their third year, recognizes outstanding material or campaigns that showcase best practices for changing social norms and behaviors to prevent violence against women. Timed to highlight the International Day to Eliminate Violence Against Women (November 25th) and the start of the 16 Days of Activism Against Gender Violence campaign, the awards underscore the importance of concerted efforts to end gender-based violence, which affects as many as one in three women globally.
The X-Change, developed by the nonprofit organization Futures Without Violence with support from the Avon Foundation for Women, enables organizations and activists throughout the world to find, share, and learn from communications material focused on ending violence against women.
"From posters and brochures to mobile phone applications and videos, the material that is being contributed to the X-Change every day is helping to raise awareness, sound the alarm, and change behavior surrounding gender-based violence," said Futures Without Violence Founder and President Esta Soler. "The awards shine a light on the most innovative campaigns throughout the world."
Since its launch one year ago, the X-Change has grown to encompass nearly 500 pieces of material from 51 counties and has attracted users from more than 90 countries."The X-Change is a powerful...website collecting the best global communications campaigns to end violence against women," said actress and Avon Ambassador Salma Hayek Pinault. "[It] increases the sharing of powerful messages to change public attitudes against violence against women."
An international panel of experts will review all eligible submissions for innovation, creativity, and impact. Winners will be notified by mid-February and a public announcement timed in conjunction with International Women's Day on March 8, 2014. For information on last year's Communication Awards winners and examples of their work, click here.
###
About Futures Without Violence
For more than 30 years, Futures Without Violence has led the way and set the pace for innovative educational programs, public action campaigns, policy development, and leadership training designed to end violence against women, children, and families around the world. Instrumental in developing the landmark Violence Against Women Act passed by the U.S. Congress in 1994, Futures Without Violence has established a Global Center for Leadership and Action that will engage today's diverse national and global leaders, stand with survivors, and continue working to break the silence around gender-based violence.
About Avon's Speak Out Against Domestic Violence Program
Avon and the Avon Foundation for Women launched Speak Out Against Domestic Violence in 2004 to support domestic violence awareness, education and prevention programs aimed at reducing domestic and gender violence, as well as direct services for victims and their families. Through the end of 2012, Avon global philanthropy has donated almost $60 million to support violence against women programs, services and education. Globally, Avon funds efforts to end violence against women in nearly 50 countries by raising funds through special product sales, and raising awareness through events and with educational information disseminated by more than 6 million global Avon Representatives.