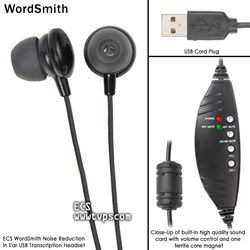 "I attend many industry conventions to demonstrate our noise reduction headset. Professional transcriptionists are consistently amazed at how clearly they can comprehend audio files that were previously hard to understand with conventional headsets,"
Ventura, CA (PRWEB) November 26, 2013
The challenges of comprehending regional and international accents and audio distortion can greatly reduce productivity.
Executive Communications Systems, an industry leader in professional dictation and transcription products based in Ventura, CA, is pleased to announce ECS Wordsmith, a new noise reduction headset designed to deliver 400% better audio clarity than conventional headsets, enabling transcriptionists to do their jobs faster and easily comprehend challenging regional and international accents.
This state of the art headset has a premium built-in sound card, which bypasses computer sound cards and matches the frequency response to the spoken word, delivering superior audio quality and filtering out background noise.
Professionals that want 400% better audio clarity and the ability to comprehend challenging accents with ease can view the new ECS Wordsmith Noise Reduction In-Ear USB Transcription Headset, which comes with three sets of silicon ear tips can view the ECS-NRIEUSB online.
About Executive Communications Systems:
Executive Communications Systems carries over 1,000 high-quality, dependable dictation and transcription products. They are trusted by over 40,000 professionals worldwide and have over two decades of experience. Their online store has same-day shipping options and renowned technical support.