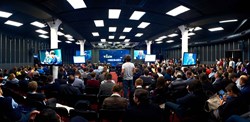 "Since first TechCrunch Moscow in 2010 the event gained reputation of a major splash of the up and coming Russian venture industry." - TechCrunch.com
Moscow, Russia (PRWEB) November 26, 2013
TechCrunch Moscow 2013 agenda features leaders of the Russian IT, up-and-coming tech entrepreneurs, global companies and VCs pursuing opportunities in the Russian market: Sergey Beloussov (Acronis, Runa Capital), Damon Cronkey (SurveyMonkey), Igor Sysoev (NGINX), Rahul Sood (Microsoft Ventures), Maelle Gavet (Ozon.ru), Martin Stiksel (Lumi), Anton Gladkoborodov (COUB), Fabian Siegel (Global Founders Capital), Victor Lavrenko (CocCoc), Huid Kleinhout (Opera), Oleg Butenko (MegaLabs), Leonid Boguslavsky (ruNet Holdings), Alexander Turkot (Maxfield Capital), Adeo Ressi (The Founder Institute), and others. Over 60 startups will be represented at the Startup Alley, with the emphasis on hardware, digital health, gaming, and finance.
Mike Butcher (TechCrunch Europe), Ingrid Lunden (TechCrunch), and Edward Shenderovich (Kite Ventures) will moderate the discussions.
TechCrunch Moscow 2013 will address the following topics:
Entrepreneurship:  What is it like to be an entrepreneur? What goes through an entrepreneur's mind and differentiates her from others? How can an employee, an investor or a partner tell whether someone is an entrepreneur or a startup maniac? These topics will be explored with some of the leading and successful European entrepreneurs.
Mobile world: Mobile first is no longer a strategy, it's the reality. At the same time, the mobile world is also undergoing changes, being deconstructed and redeveloped from the inside. Could the dominance of Apple and Google be foregone in the near future? What are the current trends and what new applications are being developed that are changing the mobile usage?
Open society and technology: Most of the developed world lives in democratic countries, yet there are many definitions of what constitutes a democracy. The Internet provides a great foundation for an open and an open-minded society. However, this poses threats to governments, large corporations, and a number of organizations that are unwilling to change. TechCrunch Moscow panels will explore how the social fabric of those born in the 1990s is changing views of the rest of the world.
Russian entrepreneurship and investment:  Russia boasts the largest online population in Europe. The two leading European Internet companies are Russian. Some of the world's top international investors have started from Russia. Yet Russia is yet to produce a leading international technology player with truly global ambitions. Is global investment a precursor to such a development?  Do Russian entrepreneurs have such ambitions?  Is Russia enough or is it enough of a problem?
TechCrunch Moscow is organized by Digital October, Kite Ventures, and TechCrunch, and supported by Microsoft Bizspark, Russian Venture Company, SurveyMonkey, Runa Capital, Mail.Ru Group.
The registration is open at http://tc.digitaloctober.com.