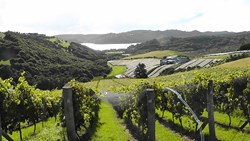 Our team works very hard to produce wines that rival First Growths and Super Tuscans on a consistent basis
WAIHEKE ISLAND, New Zealand (PRWEB) November 26, 2013
Destiny Bay Vineyards announced today that an analysis of all New Zealand Cabernet Sauvignon dominant blends rated in The Wine Advocate and reported in eRobertParker.com as of November 22, 2013 reveals that the combined average rating of Destiny Bay's Magna Praemia and Mystae blends rank them as number 1. The analysis includes 112 wines from 19 producers with at least three wines rated from 1996 to 2011.
"This is a significant achievement for a relative newcomer in the luxury wine category" stated Brett Taylor, Co-owner and Director of Global Distribution. "Our team works very hard to produce wines that rival First Growths and Super Tuscans on a consistent basis." Mr. Taylor's comment was reinforced by statements made in 2011 by Gerard Basset, MW, and the world's top rated Sommelier. Similarly, Anthony Dias Blue, Editor-in-Chief of The Tasting Panel gave the 2007 Magna Praemia a 98/100, which still stands as the highest rating of a New Zealand Wine by an international critic. In addition, Bob Campbell, well known New Zealand MW, rated the 2006 Magna Praemia 97/100.
"It is difficult enough for a tiny artisan producer like Destiny Bay to get on the radar of these distinguished critics and renowned wine publications," continued Mr. Taylor. "To achieve scores like this is nothing short of remarkable. It inspires us to keep working hard and reinforces the choices of collectors of our wines."
Sean Spratt, Owner, General Manager and Winemaker stated: "We place a lot of emphasis on creating distinctive Cabernet Sauvignon dominant blends that reflect the inspirational character of Waiheke Island and the magic of New Zealand. It is difficult and expensive to make wines of this caliber, and even harder to do it year after year." Spratt adds, "I am particularly pleased that the first release of our signature wine style, the 2005 Magna Praemia, was recently increased to 94/100. We make these wines to be approachable when young and to age gracefully. It is reassuring to receive confirmation that we are achieving this from Robert M. Parker, Jr.'s, The Wine Advocate."
About Destiny Bay Vineyards
Destiny Bay is a small, single vineyard, family-owned winery on Waiheke Island, New Zealand that specializes in estate grown and bottled blends of Cabernet Sauvignon, Merlot, Cabernet Franc, Malbec and Petit Verdot. Destiny Bay produces fewer than 2,200 cases per year of their three distinct blends, Magna Praemia, Mystae and Destinae. Destiny Bay is Waiheke Island's first fully certified Sustainable Winery & Vineyard (SWNZ).
About The Wine Advocate
Robert Parker's Wine Advocate is a global bimonthly wine publication based in the United States featuring the consumer advice of wine critic Robert M. Parker, Jr.
Trademarks
Destiny Bay, the Comet, Magna Praemia, Mystae, Destinae and Dulce Suavi are registered trademarks of Destiny Bay Vineyards Ltd. Other names may be trademarks of their respective owners.