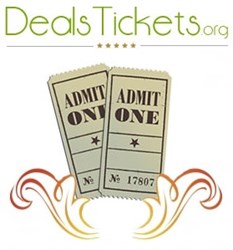 A site created on Firebird's Ticket Deals domain allows consumers to find discounts on tickets like major concerts, pro sports and theater events while a percentage of their purchase aids the Kickstarter cause.
New York, NY (PRWEB) November 26, 2013
Financial Firebird Corporation teamed up with the George Gee Swing Orchestra in two ways to help in the big band group's Kickstarter campaign raise money for production of a double CD. A site created on Firebird's discount ticket deals domain allows consumers to find discounts on tickets like major concerts, pro sports and theater events while a percentage of their purchase aids the Kickstarter cause. On another note, Ticket-Broadway.com created special coupons as rewards for backers pledging directly to George Gee's Kickstarter fundraising efforts.
Purchasing tickets at GGee.DealsTickets.org returns a 3% instant rebate to the user with code GGK3S1 and a 3% donation to the Kickstarter project. The consumer then gets some personal benefit from using the system in addition to their donation. By using code GGK7D2 the user gets $2 off for themselves and passes their discount onto the Kickstarter project. In this later case, Financial Firebird adds a little more too so the total for Kickstarter totals 7% of the tickets bought. In a case where the Kickstarter campaign fails, monies generated on the ticket deals site are donated to the rotating main page charity, currently the National Breast Cancer Foundation.
As New York City bandleader George Gee says, "Swing Makes You Happy" and that's the title of the George Gee Swing Orchestra's Kickstarter campaign to fund a double CD of new music. The campaign runs through December 12th on Kickstarter.com. When their goal is reached the recording process begins as a special New York City event and continues throughout the country until the final CD is ready in May of 2014. Says Gee "The GGSO is making this CD to honor the swingin' BIG BAND sound and its creators, as well as give voice to modern, yet eminently danceable compositions featuring the arrangements and original writing by the band's highly-regarded Music Director and Trombonist David Gibson." The band aims to record their new music and continue the tradition of swingin' big bands.
As a composer/arranger, Gibson counts Foster among his primary influences, which also include, Thad Jones, Gil Evans and Slide Hampton. According to Gibson "This is an extremely swinging band full of great jazz improvisers. They understand and love the essence of swing, but also bring a wide variety of stylistic approaches." The band's resumes include Billie Holliday, Dave Brubeck, Lionel Hampton, Clark Terry, Benny Goodman and many others. The group can be found every Tuesday night at SWING46 in New York City, where one can witness what swing looks like in the movement of the dancers crowding the floor. The late Frankie Manning, an original Savoy dancer and main force behind the 1990s resurgence of Lindy Hop, said the George Gee Swing Orchestra is "…the swingin'est band in the LAND!"
Pledges for Swing Makes You Happy! on Kickstarter.com will fund The George Gee Swing Orchestra's double CD of swingin' Big Band music, highlighting original compositions and arrangements by the band's music director, David Gibson. Help the band preserve their contributions to swing history by making your pledge before December 12th to George Gee Kickstarter project.
As a reward to those pledging $125 to the Kickstarter project Financial Firebird's Ticket-Broadway.com site contributed coupons for $50 off a $500 order from Ticket-Broadway.com for the top Broadway shows, premium seats at any show or a group of 4 or more; plus $25 off a $250 order for less expensive but popular shows, mezzanine seats, or smaller groups. Ticket-Broadway.com specializes in both sold out performances and premium seating at shows like buying The Book Of Mormon tickets, Kinky Boots and Betrayal as well as deep ticket discounts and seats below face value. Cheaper shows include some tickets under $50 for Motown, Matilda and Phantom Of The Opera. On top of the $75 value in Broadway ticket savings backers get mp3s of 7 previous George Gee CDs plus the new double album. For the most fun, see the Broadway shows on a night when the George Gee Swing Orchestra performs at Swing 46 in the heart of the New York City theater district and swing the night away after the show. Many consider the George Gee Orchestra rates as the best New York City swing band.
For more than three decades, the George Gee Swing Orchestra has been doing their part to keep fingers snappin' and toes tappin' with its happy music for happy people. For more information go to the georgegee.com website.
Other organizations or charities wishing to use the offers and technology built into these ticket sites or the discount hotel deals page to raise money or as an organization member benefit, like the page for military ticket discounts, can learn more at our Fund Raiser Ideas site.
About Financial Firebird Corporation, Deals Tickets and Ticket Broadway
Financial Firebird Corporation provides unbiased consumer information, software and marketing services for the mortgage, debt relief, foreclosure, auto lending and other financial, travel or real estate related industries as well as basic marketing, financial and website services for all companies. Established 2000 and a proud BBB member. Programs similar to this one designed for the military may be programmed for other charities or organizations for either discounts, donations or member benefits, call Financial Firebird Corporation for more information.