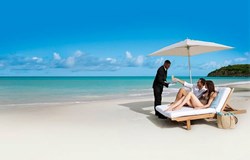 "Our popularity as a travel site is based on the fundamental principle of low cost vacation packages for everyone who has ever dreamt about going on a trip but could not quite afford to do so. We are committed to offering deals that are not overpriced and
New York, NY (PRWEB) November 26, 2013
Travelwire's latest Caribbean vacation deals offer savings that give customers the peace of mind that they never expected but always wanted.
From the Dominica Republic, Jamaica, the Bahamas and even Turks and Caicos, Travelwire is making it possible to experience these exotic destinations at a fraction of the cost. Such vacation deals, according to Oliver Huie, founder and CEO of the online travel site is among the reasons Travelwire is staying ahead of its competition.
"Our popularity as a travel site is based on the fundamental principle of low cost vacation packages for everyone who has ever dreamt about going on a trip but could not quite afford to do so. We are committed to offering deals that are not overpriced and impersonal. Travelwire negotiate the deals so customers don't have to, we want our customers to enjoy the vacation they always wanted " Huie said.
For just US$72 per night traveler and a guest can stay at the Celuisma Cabarete Beach Hotel in Dominica Republic. Travelers will enjoy their all-inclusive service and entertainment in addition to windsurf, kite surf, horseback riding and other extreme sports. Unwind in the serenity of a beautiful destination that is among the top 10 places in the Caribbean to visit.
Jamaica's magnetic presence is even more alluring with Travelwire's deals that boast packages for under $150 per night at some of the most luxurious resorts on the island. This top destination is the birth place of reggae icon Bob Marley and sprint sensation Usain Bolt. You will feel the spirit of the nation once travelers go to Jamaica.Now is the time to book a life changing experience with a trip to Jamaica.
"Many industry persons believe our deals are just too low for our customers. But we are not into the status quo. We are focused on value added service and providing our customers with memorable vacation options that they can share with their friends. Nothing is ever the same with Travelwire and we want to surprise our customers with savings each day. The time to book is now: http://www.travelwire.com
About Travelwire.com
Travelwire, Inc. is a provider of vacation packages to the Caribbean, Mexico and Central American destinations. Travelwire has been recognized as the leader in providing memorable vacation experiences to thousands of travelers to the Caribbean, Mexico and Central America. Travelwire has no hidden fees and travel insurance is offered in addition to guaranteed customer support. "We turn your travel dreams into reality".
For more information or to book travel visit: http://www.travelwire.com, or can call toll-free 1-877-293-9473 or 1-718-766-9995