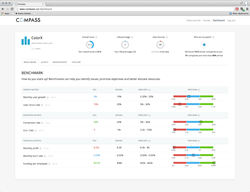 "We built Compass to help radically increase the success rate of businesses."- Bjoern Lasse Herrmann, CEO, Compass
San Francisco, CA (PRWEB) November 26, 2013
Compass (previously known as StartupCompass and Startup Genome), creators of the world's #1 benchmarking solution for startups and software companies, announces the 7 key challenges and 3 primary metrics of startup CEOs, and the launch of the next major evolution in leadership tools: Compass.co.
To ensure survival, a CEO must address an ever-rotating wheel of critical issues, yet each decision can spell life or death for the company. For startups building new products and markets without historical benchmarks, leaders are currently left with instincts alone to answer such vital questions as: Is the target audience right? Should prices be raised or lowered? To what extent are product issues holding back growth? Should the next hire be a marketer or engineer? Is the company ready to scale?
Compass launches a leadership tool tailored to CEOs of small and medium sized technology businesses, that helps users identify issues, set and prioritize objectives, allocate resources and control results via information that is nearly impossible to find elsewhere. Key features include:

A contextual dashboard aggregates a company's most critical data in one place to aid speed and effectiveness of decision-making. Data is collected automatically from more than 30 common cloud-based sources, including Google Analytics, Salesforce, Mailchimp, Quickbooks, Mixpanel and PayPal, as well as direct inputs.
Dynamic benchmarks compare businesses based on sophisticated behavioral algorithms and display aggregated, anonymous reference values. This allows a CEO to quickly understand where their results compare to their peers and understand where they may be excelling and where falling behind.
According to Bjoern Lasse Herrmann, CEO of Compass, the era of startup and software benchmarking is on the verge of explosive growth. "Our Startup Genome Report discovered that startup CEOs were 700% more successful when they had mentors to provide benchmark data and help set appropriate targets. We built Compass to help radically increase the success rate of businesses, to augment these valuable human networks with a consistent, accessible and relevant set of reference values that takes full advantage of the unique convergence of big data, cloud-based services, technical innovation and machine learning over the past few years."
The initial theory and research has now evolved into a dynamic model that is capable of understanding a business in its full uniqueness with all of its implications. The company evolved as well, adding new team members with expertise in technical infrastructure and machine-learning algorithms, while original team members helped define technical requirements and are now primarily functioning as advisors.
Starting today, CEOs can discover their own benchmarks for free at Compass.co.
About Compass
Compass, (previously The Startup Genome and StartupCompass), headquartered in San Francisco, CA, is the creator of Compass.co with more than 30,000 active companies, as well as the author of the reports The Startup Genome Report The Startup Ecosystem Report and The Startup Genome Report on Why Startups Fail and Premature Scaling among others, which have been downloaded more than 100,000 times, added to the curriculum of more than 100 universities, referenced by the Obama Administration and Chancellor Merkel and used by dozens of consulting firms and startup accelerators.