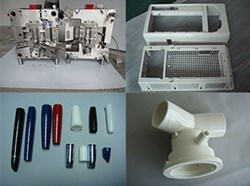 (PRWEB) November 26, 2013
Recently, Wuxi Glory Plastics, a distinguished Chinese plastic mold manufacturer, has released its latest collection of blow molds. The good news is that the company has also announced a promotion of these new items. According to the CEO of the company, all old and new customers can enjoy a discount before December 19, 2013.
"Over the past few years, our blow molds have remained one of the best-selling products. As a result, we are very proud to launch the mold promotion. Our aim is to make the high end items available to more customers across the world. Also, we want to expand our online market. More detailed information about this promotion can be found at online website," the CEO states.
Wuxi Glory Plastics has extensive experience in the industry. It has been specializing in the creating of high end molds for several years. All its products are made from the best materials in the world. The company's quality standard is at a very high level.
Apart from the excellent quality, the company's products are offered at the most cost-effective prices. That is why its items are so popular in the global market. What's more, its online workers are kind and patient.
About Wuxi Glory
Wuxi Glory engaged in developing and manufacturing custom molded plastic product in China by taking advantages of our relatively low labor costs. We have most experienced workers in China. If you're looking for product design, engineering, prototyping, and mass production, Glory plastics can always find a solution for you. For more about our products and services please visit: http://www.plastics-molding.com.