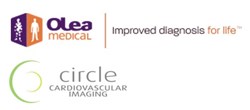 La Ciotat, France (PRWEB) November 27, 2013
cvi42 is a vendor independent cardiovascular post–processing software comprised of state–of–the–art modules for viewing and analyzing CMR and CCT images. The automated algorithms and intuitive toolset in cvi42 allow for rapid analysis with unparalleled accuracy in both clinical and research settings. This results in beneficial time savings for physicians and improved patient management.
report42 is and advanced zero-client reporting tool designed to facilitate documentation and reporting of CMR and CCT images. Automated import functions from cvi42, a graphic input interface, and associated calculation algorithms allow for a fast and easy transition from quantitative information, such as volumetric and signal intensity data, to a structured report.
Olea SphereTM is an image post-processing software package intended for picture archive, post-processing and communication. It standardizes across vendors both viewing and analysis capabilities of functional and dynamic MRI and CT imaging datasets. The solution features innovative multiparametric and multimodalities whole body image post-processing and viewing. Olea SphereTM also offers optimal features for follow-up between different dates, modalities and series to efficiently track and assess different time points.
Olea Medical®'s applications are compliant with the DICOM standard and Windows, Macintosh or Linux operating systems. Olea SphereTM runs on any standard off-the-shelf workstation or it can be used through thin deployment.
"Partnering with Circle is an important milestone for Olea Medical," said Fayçal Djeridane, President and CEO of Olea Medical®. "Our expertise in complex post-processing of CT and MR images is now well-established in Neuroradiology. However, Olea Medical targets standardization of full-body image post-processing. In this respect, Circle's package is a significant addition to our portfolio providing streamlined and standardized post-processing and reporting solutions for cardiac imaging. Post-processing of cardiac images is extremely challenging and Circle's team have proven undisputable skills in designing very powerful solutions".
"Olea Medical® is the perfect partner for Circle," said Greg Ogrodnick, CEO of Circle Cardiovascular Imaging. "Olea is well positioned to grow exponentially through its product innovation, as well as direct and indirect sales channels in key global markets. We are delighted to be a part of that growth."
CONTACT
OLEA MEDICAL
Anca Mitulescu
+33(4)42 71 24 20
anca.mitulescu(at)olea-medical(dot)com
http://www.olea-medical.com
CIRCLE Cardiovascular Imaging
Greg Ogrodnic
+1 403-338-1870
greg(at)circlecvi(dot)com
http://www.circlecvi.com
About Olea Medical®:
Olea Medical®, a provider of advanced MR and CT perfusion imaging post-processing, designs and markets innovative medical imaging applications significantly improving diagnostic processes and treatment evaluation.
More information at http://www.olea-medical.com.
About Circle Cardiovascular Imaging Inc.
Circle Cardiovascular Imaging Inc. develops analytics software for the evaluation of cardiovascular MR and CT images. Circle operates worldwide and has installations of their products cvi42, cmr42, ct42 and report42 in over 25 countries. Circle's goal is to contribute to quality in cardiovascular imaging and research, maximizing the achievable benefit for patients by enabling healthcare providers to accurately and effectively analyze cardiovascular images. For more information visit http://www.circlecvi.com.