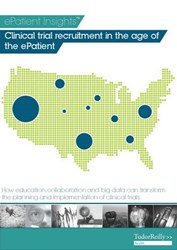 With ever-increasing numbers of patients creating, sharing and searching for health information online, ignoring the applications of data is a missed opportunity.
London, United Kingdom (PRWEB) November 27, 2013
A new report by Tudor Reilly Health shows how big data can give pharmaceutical companies revealing new insights into where to locate clinical trial sites to maximize patient recruitment.
The report, 'Clinical trial recruitment in the age of the epatient'*, looks at three distinct therapy areas – schizophrenia, atopic dermatitis and non-small cell lung cancer – and identifies hot spots of online activity at state and city level throughout the US.
The results highlight major – and surprising – discrepancies between where clinical trial sites are planned or up-and-running and where prospective trial participants may actually live. The findings can be used to inform decisions on the placement of clinical trials and the geographical targeting of clinical trial-focused advertising.
The data is harnessed using Tudor Reilly Health's platform, ePatient Insights™, based on a sophisticated algorithm that layers both public and privately-held data. The data create geographical hot spots that indicate where the biggest patient populations with a particular condition may be located.
"The use of big data to inform important decisions is now commonplace in business but rarely used to inform clinical trial planning," said Julie Walters, founder and managing director of Tudor Reilly Health. "And yet, with ever-increasing numbers of patients creating, sharing and searching for health information online, ignoring the applications of big data is a missed opportunity; and it contributes to delays in recruitment that can cost trial sponsors millions of dollars in lost sales."
The launch of the ePatient Insights™ platform follows a recent survey by the Center for Information & Study on Clinical Research Participation (CISCRP), which found that almost half (46%) of respondents received information about clinical trials from the internet compared with just 20% receiving this information from a primary physician and 20% from a specialty care physician.
The report can be purchased directly from Tudor Reilly Health with a 20% early bird discount on offer until 20th December 2013.
*An epatient, or empowered – internet-savvy – patient, is anyone who actively looks for health information online.
About Tudor Reilly Health
Tudor Reilly Health is a digital health company building online communities in important areas of medical need. Our vision is for a healthier world based on shared experience and knowledge. Our digital healthcare platform e-Patient Insights™ provides insights on patient populations for clinical trial sponsors and helps to connect patients and carers with new treatments in development.