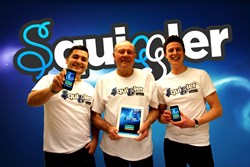 Ben's Dad is now 78 and we think that we are finally going to have to teach him how to use an iPhone or iPad so he can see his game reinvented for a modern audience!
Leeds, United Kingdom (PRWEB) November 26, 2013
Squiggler, an innovative new game app that infuses an old school idea with a modern twist, is the breath of fresh air required, allowing for the use of a massively overlooked human fundamental: imagination.
Developed by Outhouse Digital, a fresh thinking, forward moving and independent company founded by Ben Pickford and Simon Meston, the game was originally created in the 1980's.
Long before the app concept had even been invented, Ben's father thought up Squiggler as a way to keep him entertained during life's less exciting moments. A simple idea that consisted of Ben's Dad closing his eyes and drawing a squiggle on a piece of paper, with Ben then given the task of turning the squiggle into something that his Dad would have to guess.
Following long days, consisting of more awake time than sleeping, Ben and Simon storyboarded the game and added elements that made it more appealing to a modern audience. A time restraint has been introduced to the game to give it an edge; player one creates an initial squiggle, player two then has 60 seconds to create a drawing from the squiggle and name it, the drawing is then sent back to player one who is tasked with guessing the image. Players receive virtual coins, upgrades and winning streaks when they guess correctly. Creations can also be shared via Social Media, over Facebook and Twitter.
Simon said: "We want people to come back again and again and when we were developing ideas, we kept coming back to Ben's Dad's game. It was so simple yet really entertaining and we were confident that it would work for mobile devices. Ben's Dad is now 78 and we think that we are finally going to have to teach him how to use an iPhone or iPad so he can see his game reinvented for a modern audience!"