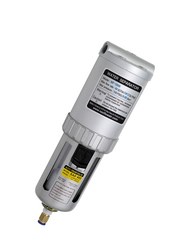 Toronto, Ontario (PRWEB) November 25, 2013
The Nex Flow™ Patent Pending Super Separator is used upstream from the point of a compressed air line application and removes 99.9% moisture, water, oil, dirt and particulate.
Design improved for easier installation and use. Some separator designs make similar claims but often require several units in series to achieve the same liquid removal adding to cost. With ours, you only need "one".
The Nex Flow™ Super Separator utilizes a unique multiple chamber design to spin the entering compressed air through two chambers causing an extremely high level of moisture and particulate removal. A built in automatic drain – the only moving part – removes the collected waste and no cartridges to replace.
Despite the use of driers at the compressor location, you can still get condensation and moisture entrainment into air lines downstream causing havoc with cylinders, solenoid valves, tooling, blow-off and other pneumatically operated equipment. Traditional can sometimes be overloaded requiring frequent replacement of cartridges – a maintenance and downtime cost.
The Nex Flow™ Super Separator is placed upstream from the point of use and upstream from existing filters to remove the moisture and particulate. Existing filters may be replaced or simply kept in place for extra security but the lifespan of their cartridges can be extended four to five times or more.
We are so confident of the Nex Flow™ Super Separator we offer a five year warranty.
Available in three capacities: 9 SCFM, 22 SCFM and 64 SCFM. Units may be installed in parallel to address different capacities required.
Applications and industries include: Paint Lines, Pharmaceutical and Food Industry, Semiconductor Industry, Shipbuilding, Power Plants, Precision Metalworking, Prevent line Freezing, Cement Industry, Automotive Industry, Textile Industry, Pulp & Paper Plants, Chemical Industry, Packaging, and more.