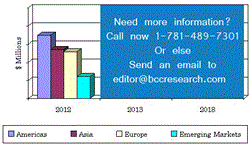 Global Market For Molecular Imaging Devices To Grow Nearly $3 Billion By 2018
Wellesley, Mass (PRWEB) November 25, 2013
According to a new technical market research report, Global Markets and Technologies for Molecular Imaging Devices (http://www.bccresearch.com), the global market for molecular imaging devices was valued at $2 billion in 2012 and is expected to reach $2.2 billion in 2013. BCC Research projects the market to grow to nearly $3 billion by 2018, and register a five-year compound annual growth rate of 6.2% from 2013 to 2018.
Unlike traditional diagnostic tools, molecular imaging devices use biomarkers to identify diseases. These devices are well known for their ability to detect the molecular basis of diseases, including neurological and cardiovascular diseases. In fact, developed countries account for 26% of the world's population and nuclear medicine accounts for 1.9% per year of medical procedures, in these developed countries with one tenth frequency of therapy. Additionally, there are around 18 million annual nuclear medicine procedures performed in the U.S. and around 10 million in Europe. In Australia, there are around 560,000 annual procedures and the use of radiopharmaceuticals increases by around 10% annually. The number of patents involving molecular imaging devices is increasing due to developments in methods, systems, and equipment. Almost every hospital now uses cloud technology for the storage of molecular device images, which creates a reduction in information technology (IT) costs to hospitals.
An aging global population, advances in nanotechnology and robotics, as well as increasing demand for more accurate and efficient imaging systems will drive steady growth in this market over the next five years. Pricing, product development, product launch time and customer loyalty continue to remain competitive factors for the growth of the molecular imaging device market. According to report, global growth will continue to remain solid with production shifting from the U.S. and Europe to China due to Chinese infrastructure and competitive pricing. Also, consolidation will continue to be a key trend in the molecular imaging industry. Given that the market entails complex technologies and entry is restricted to players with strong financing, it is anticipated to witness mergers, acquisitions and licensing deals, as the crossover between medical diagnostics and pharmaceuticals continues to take place.
This BCC Research study is presented to provide an in-depth market analysis of the molecular imaging device industry. The study includes an analysis of the factors driving the growth, challenges affecting the industry, and opportunities that participants can tap within the forecast period. The report also reviews the competitive landscape, leading pipeline products, pricing, and technology offerings. Categories discussed in the report include planar scintillation cameras, PET, PET–CT, SPECT, and SPECT–CT. Applications discussed in the report include: oncology, cardio and vascular, neurology, and others (brain imaging, tumors, Alzheimer's, aneurysms, bone scanning, irregular or inadequate functioning of organs, myocardial perfusion imaging).
The report discusses each category in detail, describes each segment, identifies current products on the market, measures market size, identifies market drivers, presents forecasts for 2013 through 2018, and assesses the competitors and their market shares. This report also examines the impact of reimbursement cuts and a declining overall economy on molecular imaging market progression.